Outdoor parties can include outdoor weddings, birthdays, company events, and more. The misconception that many people have about outdoor parties is that they need a sufficient budget to be able to organize them. But the truth is that hosting a great outdoor party doesn't have to cost a lot of money.
With some clever planning and creativity, you can throw a fun outdoor party on a budget of $1,000 or less. To do just that, we'll provide tips and tricks about outdoor parties. to help you throw a great event on this budget.
Customized budget forms
Before you start preparing for all aspects of the party, create a budget form. Make a list of where you need to spend money, such as venue costs, catering costs, and renting tables and chairs. Write the approximate budget for each part on the back and keep it tight.
Choosing the right venue
The first thing that usually takes up the most expense is the rental cost of the venue. Some outdoor venues will cost from $60 to $500 an hour.
If the number of people attending the party is less than 15, you can also choose a B&B with a yard as the venue for the event. The price for one night will probably range from $300 to $600. This is a much better deal than hourly rates.
(Backyard party)
Of course, the best thing is that you have your venue. For example, a backyard, patio, or garden. This way, you can save the cost of the venue for other aspects of the party. If you are hosting the party at home, make sure you have enough space to accommodate your guests as well, particularly about restrooms.
Online invitation
Compare this to expensive and less environmentally friendly paper invitations. Email invitations or video invitations are great options. It's fun and low-cost and is the choice of the vast majority of party organizers these days.
Party supplies
Make a list of party supplies. Enough tables, chairs, tableware, decorations, trash cans, photo booth. Tables usually cost between $10 and $20 to rent, and folding chairs won't cost more than $5 to rent.
And other party supplies can be purchased at affordable prices on Amazon. Disposable utensils can be used, which will be more convenient and safer.
Using a party tent
A party tent can take an outdoor party to another level. It provides a cozy space that circumvents the weather elements and has good privacy. Being able to enjoy the fresh air outdoors while having a protected space.
For small backyard parties, a 10x20 canopy is perfect. It can accommodate about 15 people and add the appropriate tables and chairs. The 10x20 canopy is $240. Or a 10x30 tent can hold up to 30 people plus 3 tables.
(Quictent party tent)
As for how to decorate a party tent. It can be as simple as using colorful fabrics or ribbons tied to the inner frame. You can also use the resources provided by nature, such as flowers and plants from your yard to place on the table.
Lastly, hang strings of lights in the doorway or inside to provide light for the night and create a cozy atmosphere. Prices for string lights range from $10 to $80 depending on the size and length of the bulb.
Party Tent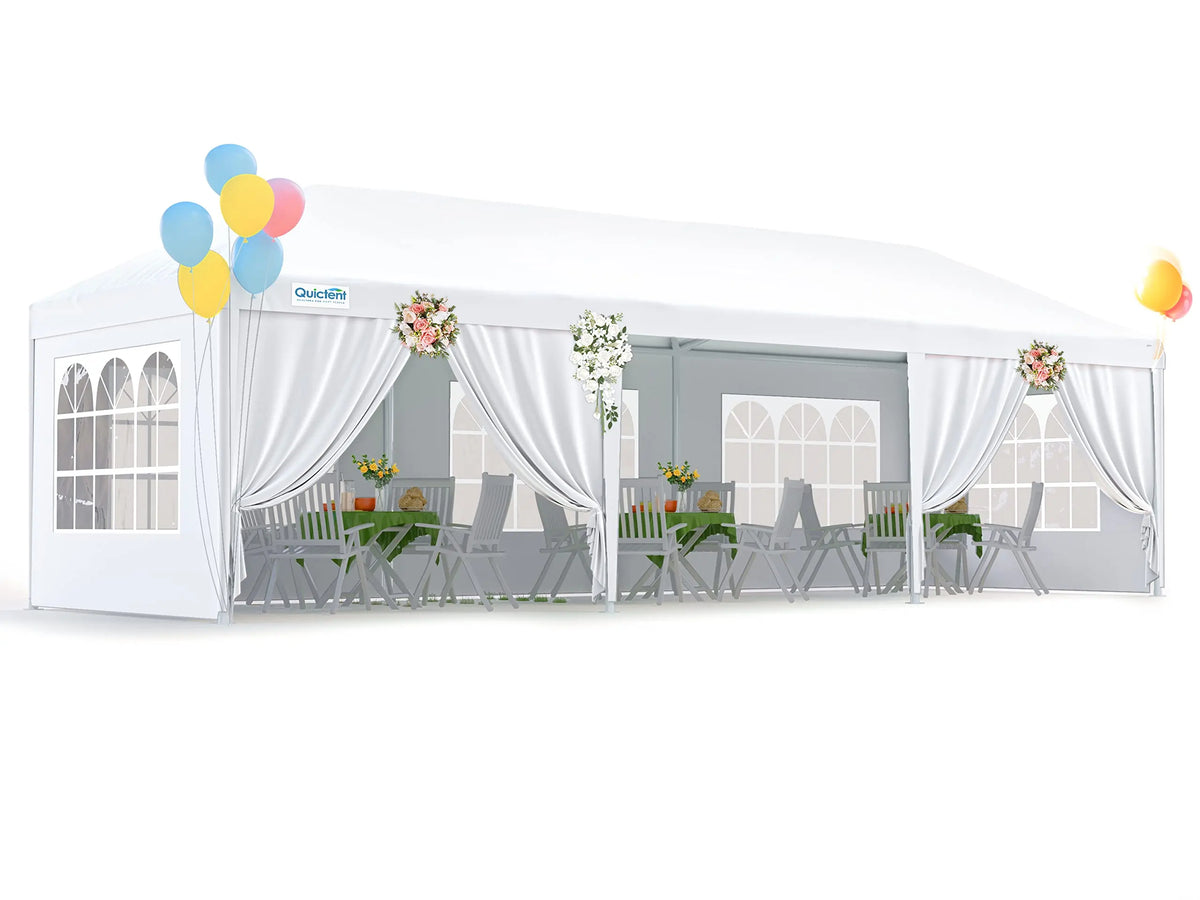 Let the guests bring food
This is to take the pressure off the host and is a great way to keep costs down. Have guests bring their specialty dishes, their favorite foods, or drinks to the party to share. It also deepens the understanding and connection with each other.
If it's a barbecue party, you can also have guests bring their favorite meats or vegetables. Or grill the ingredients yourself so you can have a barbecue competition. This will make the party even more fun afterward.
Playing games
For a more exciting party atmosphere, choose some fun outdoor games. For example Sack Race, Dodgeball, or a card game. Or organize scavenger hunts and relay races where you can use wine or household items as prizes. These types of outdoor games are inexpensive and won't take up too much of your budget.
(Outdoor party games)
Giant Jenga is my most recommended game. It's accessible to all and not as intense as other outdoor games, but it's no less fun. It is one of the party games that stand out. They also keep the guests interacting as well as enhance the enjoyment of the party!
Self-service
Among low-budget party planning, self-service can save you a ton of money. Food and drink stations can be set up to allow guests to choose their favorites instead of a meal plan.
Drink stations also allow guests to make their DIY drinks, offering things like lemonade and iced tea. Set out bottles of wine and garnishes so that guests can mix and match to make creative drinks.
Making creativity work
Planning a low-budget outdoor party is not a difficult task. Let your creativity come into play and with smart planning, you can throw a great outdoor party on a budget. Allowing you to throw a great party that feels gorgeous but doesn't cost too much!