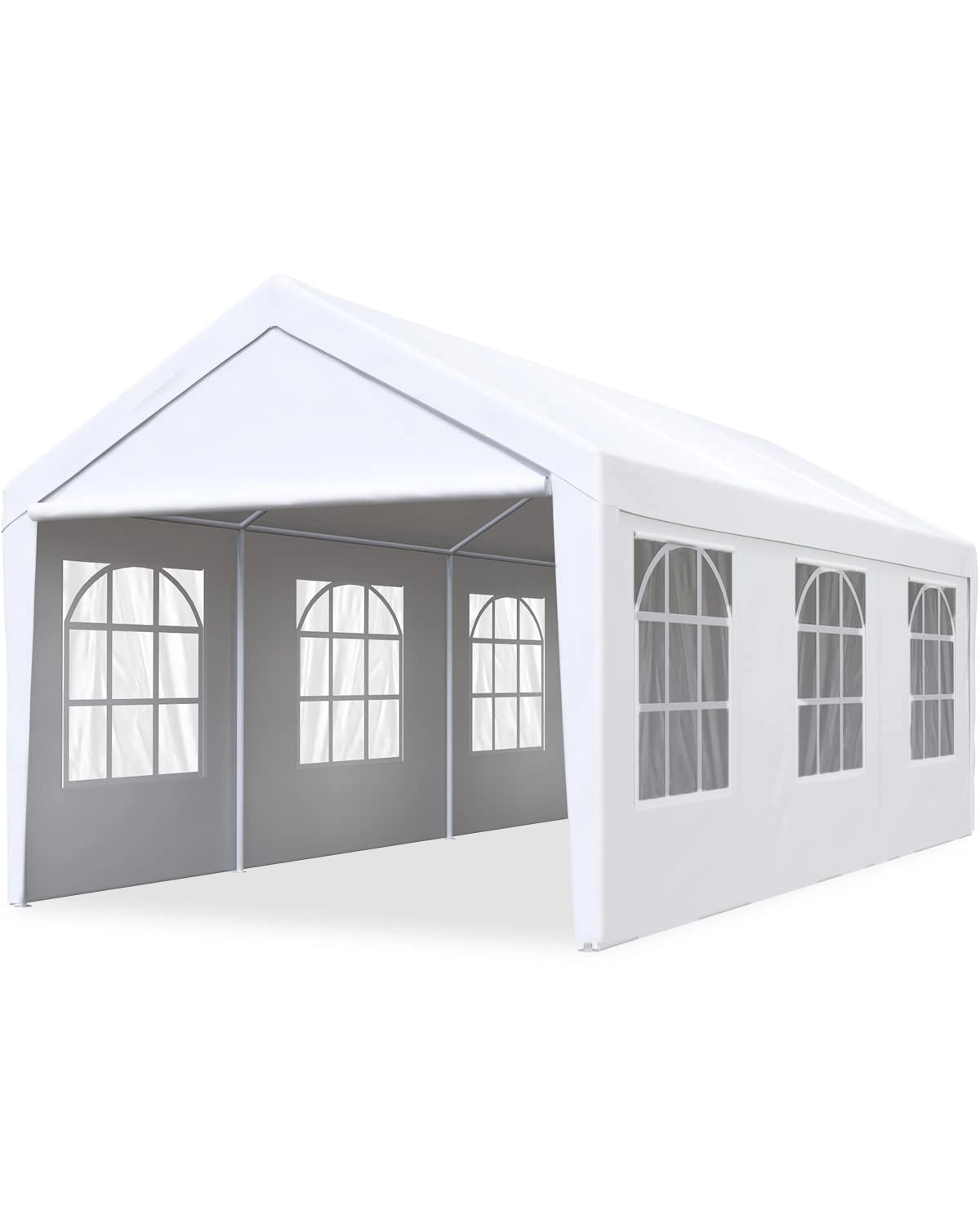 20' x 10' Car Shelter with Windows
Description
20' x 10' Car Shelter with Removable Windows
Did you aware that this structure can not only be a car canopy but also a shelter for all your belongings? Being capable of standing firmly against the elements, keeping warm, and even letting in enough fresh air when required, it's a dependable car shelter for boats, motorcycles, tractors, parties, and even your lovely dogs! Let's learn what makes it so versatile.
Adjustable Window Sidewalls
The adjustable window sidewalls are the most significant feature that differentiates this portable garage from those regular ones in the market. The two window sidewalls are a combination of aesthetics and functionality—for good ventilation or privacy protection, this car shelter will get you covered!
Premium Fabric
Surely, your vehicles can serve longer if there is a carport cover to prevent them from the elements. Made of water-and-tear-resistant 180g PE fabric, this car shelter will protect your vehicles and their accessories from cracking, aging, and color fading.
Coated Steel Poles
With high strength and longevity, steel poles are always the first choice for the frame of a car shelter. By coating all the supporting legs with white powder, we take durability and longevity to a new level—rest assured to enjoy long-term protection delivered by the strong canopy frame!
For Multiple Occasions
Overall, this car shed is a versatile structure—not only for its rare-to-see window sidewalls and excellent-than-average materials but also mainly for its detachable design. It can be used for multiple occasions as you can decide to keep/remove the panels as per your own needs!
Warranty
Lifetime Free Replacement for Connectors, Pegs, Ropes, Elastic ropes, etc.
1 Year Free Warranty for Covers and Poles.
Lifetime Free Replacement for a few natural-loss poles.
Lifetime 50% OFF Parts Supply exceed normal 1-year warranty.