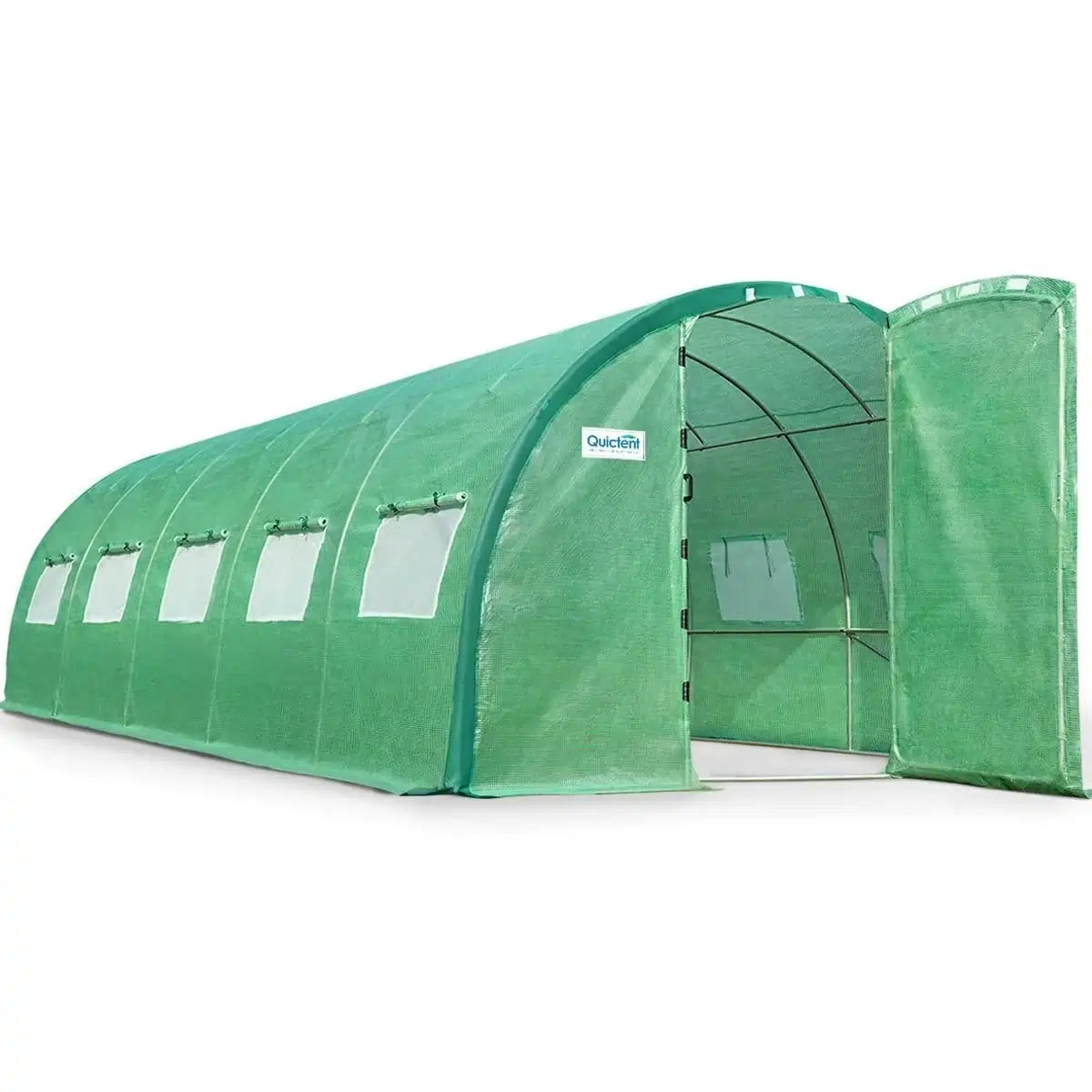 25' x 10' x 6.6' Upgraded Large Walk-in Greenhouse
Description
About  25' x 10' x 6.6' Large Greenhouse
This 25' x 10' x 6.6' Large Greenhouse is an upgraded heavy-duty greenhouse. A large greenhouse kit is a great bonding project. Everything from selecting the location for set-up to preparing the greenhouse plants can become a shared experience. Quictent large greenhouses are ready to deliver tremendous value to your entire family. Providing you with more options, here are two greenhouse colors for you to choose from.
2 Independent Lockable Swing Doors
Newly designed 2 swing greenhouse doors on both ends can be locked by chains, blocking kids, dogs, or other troublemakers. Freely enter and exit the high tunnel greenhouse with the adjustable 180-Degree door greenhouse frames. Come to enjoy the smoothness of new switching doors.
Extra 5 Groups of Top Hoops Equipped
In addition to the 3 rows of stable top crossbars, 5 additional groups of top hoops are added, preventing damage from snow & rainwater accumulation. Also, the ground frame secured by the U-shaped ground staples will effectively grip the ground and reduce wind obstruction. Stability has been greatly improved.
Top Cover Reinforced with Oxford Cloth
To avoid tearing at seams, the 100% waterproof firm Oxford cloth is sewn to reinforce the cover. With the waterproof, UV-resistant agent and translucent mesh cover, up to 85% of the sunlight can pass through. The service life of greenhouse cover is significantly increased.
Fully Sealed Windows and Doors
With all-sided velcro on the greenhouse windows, the greenhouse kit can be heat-locked and keep a relatively higher temperature in winter than the outside. Meanwhile, the velcro and cover buckles on the doors can make it airtight. Greenhouse ventilation can also be achieved by 8 flexible screen windows when needed.


Specification
Product 

Size

25 x 10 x 6.6 FT

Window Size

31.5 x 19.7 inches

Package Weight

107 lbs

Frame Material

Galvanized steel

Package Include

Galvanized Steel Frame, polyethylene cover, assembly parts
Warranty Information
Quictent has been doing tent business since the early 21st century. We believe in our product quality and after-sales service. Please rest assured to buy and contact us at first if any doubt or problems with this 25' x 10' x 6.6' large greenhouse.
 

Lifetime replacement for connectors, bases, and stakes. 

1-year warranty for all poles.

6 months warranty for cover.
Friendly advice
1. The positioning of the front of the greenhouse should NOT face in the direction from whence the wind predominantly blows.
2. We recommend you purchase additional anchoring materials (stakes, weights, screws, etc.) locally or use compost, manure, topsoil, bricks, etc... around the sides to enhance the stability.
3. Find other attractive greenhouse tents at Quictent, such as 12' x 7' x 7' Tunnel Greenhouse and 71" x 36" x 36" Mini Greenhouse.