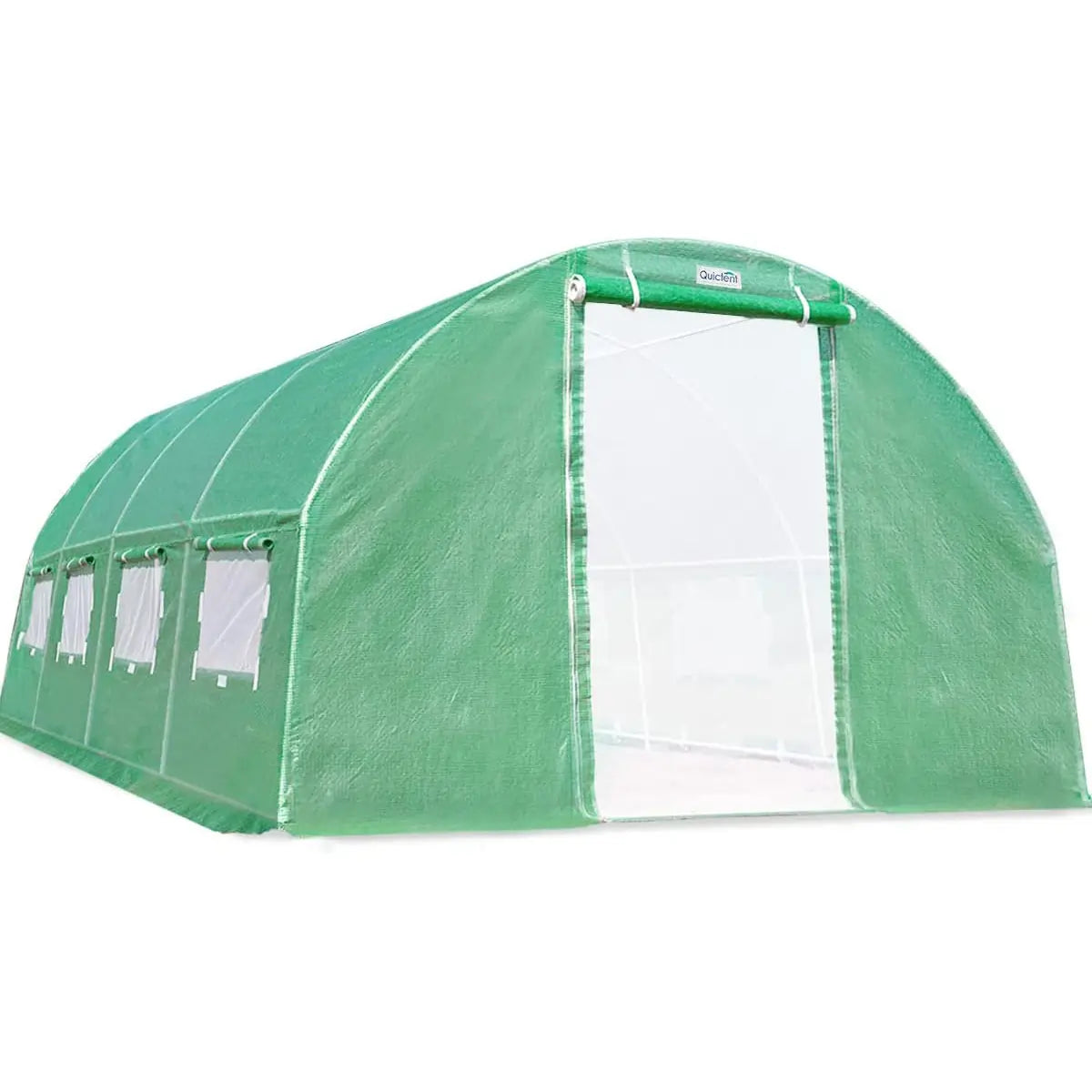 20' x 10' x 7' Large Greenhouse
Description
About  20' x 10' x 7' Large Greenhouse
This 10' x 20' x 7' Large greenhouse is ideal for cultivating and growing vegetables, flowers, tobacco, or other plants in your garden or backyard. This economical greenhouse tent will extend the growing season of your vegetables, flowers, and herbs, protecting your greenhouse plants from heat, cold, dust, wind, rain, and pests. There are two greenhouse colors for you to choose from.
Why choose a white greenhouse?
Reflects heat and sunlight. A white garden greenhouse is more friendly for summer, especially in hot and dry areas. It reflects some of the heat and sunlight and helps you control the climate inside the greenhouse.
Garden aesthetic needs. White is a popular color for garden decoration nowadays, and it gives the garden a more quality look. Gardeners can have a comfortable experience taking care of plants in a white greenhouse.
Adequate Ventilation
To let more fresh air flow through the large 10 x 20 greenhouse, besides the regular two doors, there are ten extra vents — two are built into the doors while the other eight are on each side. By opening/closing vents, your greenhouse plants can always stay in the optimal environment.
Versatile Windows
We fully understand your delight to see the plants grow day by day. The greenhouse windows enable your everyday records while serving as vents. For convenient observation and full protection, we've added gauze mesh and widened the Velcro straps around each side. And, the greenhouse covering is made of high quality PE material.
Two Doors in One
It's the most creative idea in terms of door designs for a portable greenhouse. We've innovatively integrated a mesh door into each regular PE zipper door. No disturbance from other insects while good ventilation is also guaranteed. Another great idea that makes sense for convenience is that zippers are built both inside and outside of each PE door.
Reinforced Top Structure
It's common to see that there is only one ridge pole for this kind of portable greenhouse. However, Quictent large greenhouse kits come with three. By forming a complete high tunnel, the greenhouse looks better and the whole structure becomes stronger.
For Ultimate Stability
For ultimate stability, we also focus on thoughtful details for the ground frame: thickened steel poles for the structure, extra diagonal poles at the corner, and 20 pieces of U-shaped stakes for free. Though this greenhouse is a portable one, it will stand firmly once erected. All three greenhouse kits have strong greenhouse frames.
Specification

SKU

1325W,1325G

Size

20' x 10' x 6.6'

Color


White, Green

Frame

Powder Coated Steel Frame
Cover

Transparent Reinforced PE 140G

Weight
63.5 lb, 78.5 lb (

Upgraded

)
Package
1 box
Package Include
1 X Heavy-duty steel frame
1 X Transparent PE cover with 2 zippers
Necessary assembly parts
1 X Manual


Warranty
Quictent has been doing tent business since the early 21st century. We believe in our product quality and after-sales service. Please rest assured to buy and contact us at first if any doubts or problems with this 20' x 10' x 7' large greenhouse.
one year free warranty for the

20' x 10' x 7' large greenhouse 

frame
6 months warranty for the cover
Lifetime Free Replacement for Connectors
Friendly advice
We recommend the positioning of the front of the 20' x 10' x 7' large greenhouse should 

NOT

 face in the direction from whence the wind predominantly blows

You can purchase additional anchoring materials (stakes, weights, screws, etc.) locally or use compost, manure, topsoil, bricks, etc... around the sides to enhance the stability.
The persistence of this

20' x 10' x 7' large 

greenhouse depends on the weather and place, please

 

reduce

 

the use in bad weather and install it in a place that can keep the wind out.
The 20' x 10' x 7' Heavy Duty Large Greenhouse can be a great greenhouse choice for you. It has 

extra 7 rows of crossbars, the structure is better and stronger.

Click here to know more " greenhouse near me".


Shipping&Return
Free Shipping to 48 states of the US. Alaska, Hawaii, and other regions of the U.S, please contact us for the shipping rate. Find Out More Here.
Instruction
Please check the contents according to this page after receiving the 20' x 10' x 7' large greenhouse. If there's any part missing, contact us immediately to get a replacement.
If you have free time, Please take a simple Survey to help us Improve the 20' x 10' x 7' large Greenhouse.