Warranty & Replacement Parts
You can find Quictent's policy for warranty and replacement parts from here.
What are covered?
Quictent products apply to a flexible warranty from 6-months to 5 years, which takes into effect from the purchase date on the receipt. Please refer to the following
Quictent Warranty 2020
for warranty information. You can also check on the listing page.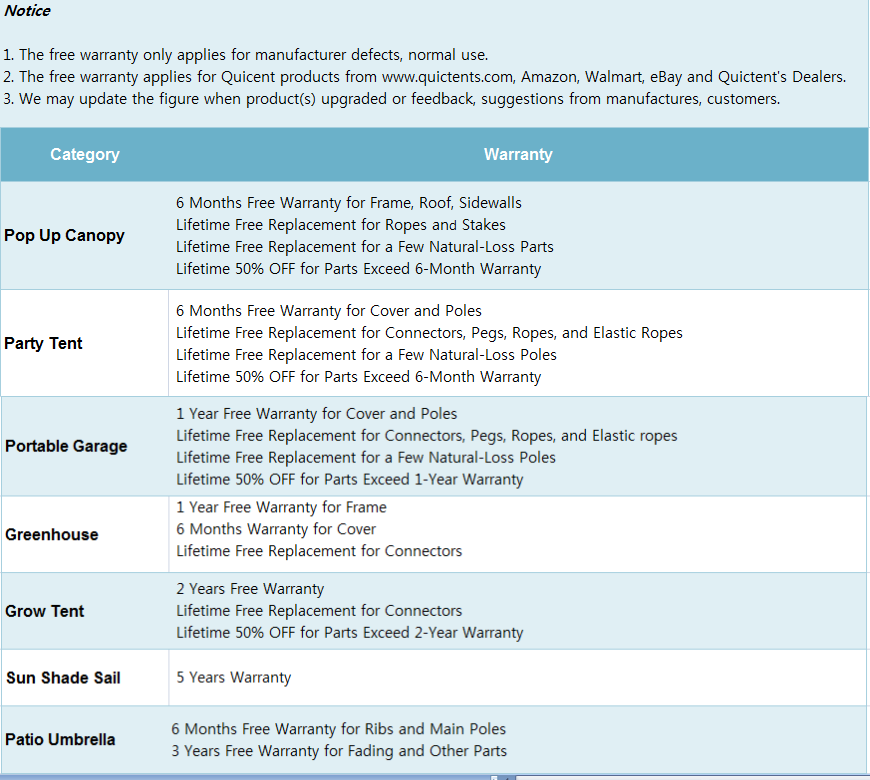 Quictent Warranty 2020
What are not covered?
Quictent shall not be responsible for the inevitable breakdown due to extended use (e.g.exhausted zippers), and defects caused by accident, abuse, alteration, animal attack, bad weather damage, misuse, or improper care(e.g. leave tent outside overnight without precautions).
How can I file for a warranty?
Please
contact us
with the order number(required) and photos of defects(if applicable) so that the Quictent customer service expert can help out as soon as possible.
How can I obtain replacements for parts which are out of warranty?
Please
contact us
with your original order number, needed part number and pieces for each part. A customer support expert will get back and follow up on your request in hours.