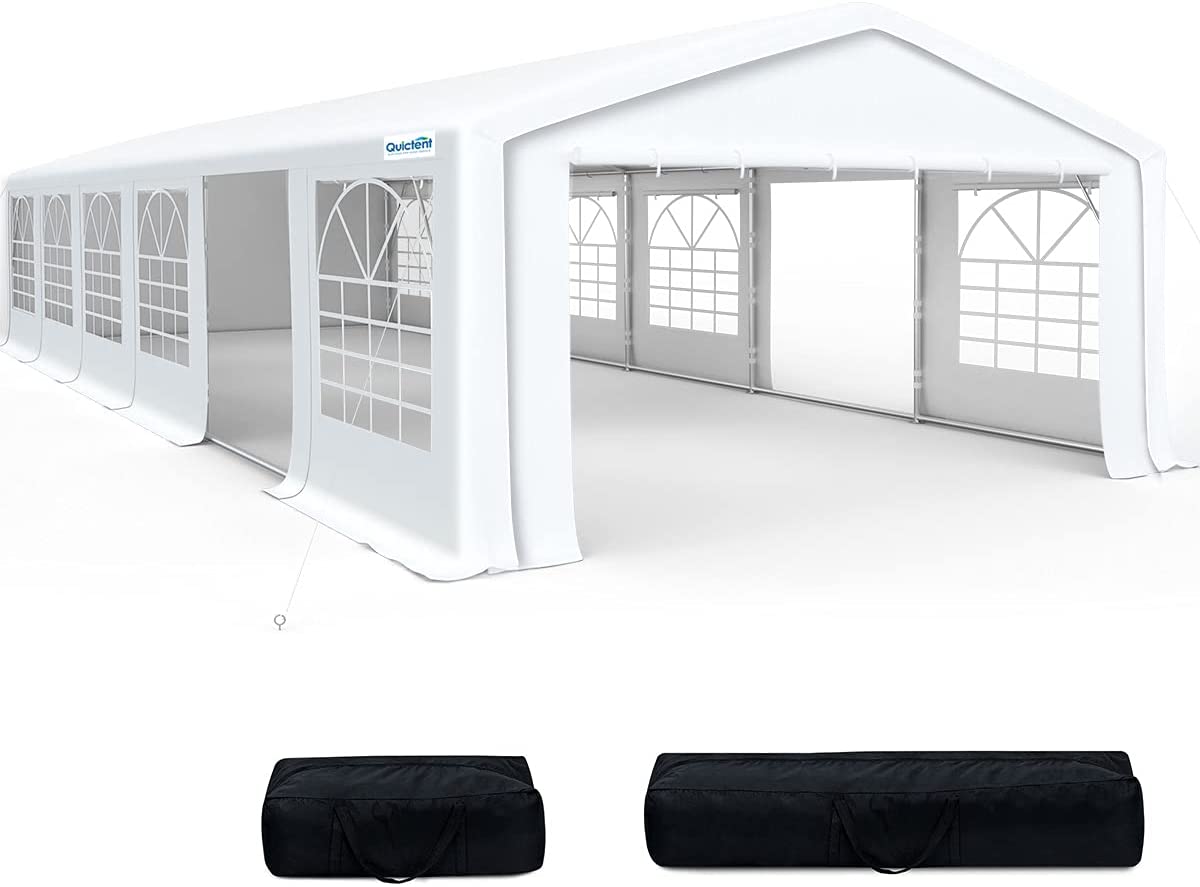 20' x 40' Party Tent -White
Description
About 20' x 40' Party Tent
The Quictent 20x40 tent is a high-quality large party tent ideal for events, festivals, and outdoor weddings. As one of Quictent's largest frame tents, this 20x40 canopy provides an expansive 800 square feet of covered space to accommodate up to 125 people comfortably.
Its durable construction and spacious interior make it the premier choice for any occasion requiring a large. Besides this large party tent, other sizes of our party tent are also very popular, such as this 10x30 party tent.
Advantages 
Upgraded Framework & Anchors. Our 20x40 frame tent features an upgraded heavy-duty rust-proof frame and metal corner joints. This makes our large tent more durable and strong enough to be used repeatedly. The upgraded anchors effectively increase the depth of pegging and enhance the solidity of the tent.
Unique Triangular Structure & Accessories. A unique triangular structure is provided to make the top of the 20x40 canopy more stable and solid. Plus the extra ground tube makes it more firmly on the ground and strengthens the wind resistance. The black Oxford bag is durable, making the large tent easy to carry and convenient to store.
Removable sidewalls. Includes 12 removable sidewalls & 2 zippered doors, 12 windows made of transparent material with adjustable window covers. Ensures fresh air circulation and a better view.
Note. This 20x40 tent is NOT FIREPROOF, please stay away from the fire source. 
Specification
Size: 20x40

Height

:

10.5FT to the top, 6.6FTto the edge
Door&Window size

:

width 20FT, height 6.6FT & 37"x44"
Roof cover material

:

180g PE, White, UV protected, waterproof
Door &Window

:

sidewall material 160g PE, White, UV protected, waterproof
Frame material

:

diameter 38mm, thickness 1.2mm
Joint connector

:

material diameter 46mm, thickness 1.5mm
Warranty

Quictent has been doing tents business since the early 21st century. We believe in our product quality and after-sales service. Please rest assured to buy and contact us first if any doubts or problems with this 20x40 tent.
Lifetime Replacement for Connectors, Pegs, Ropes, Elastic ropes, etc.
1-Year Warranty for Covers and Poles.
Lifetime 50%Parts Supply exceeds the normal 1-year warranty.
Frequently Asked Questions & Answers
Q: How many tables fit in a 20x40 tent?
A: 

The 20x40 tent can accommodate 80 people at 8 tables.
Q: How big is a 20x40 tent?
A: 

The 20x40 tent provides 800 square feet of space.
Q: How high is the peak of the ceiling?
A: The 20x40 frame tent has a height of 6.6ft on the outside and 10.5ft on the inside.

Shipping & Return
Free shipping to 48 states of the US. We do NOT deliver to Alaska, Hawaii, Puerto Rico, US Protectorates, and APO/FPO. Find Out More Here
Instruction
If you have any questions about the installation of the 20x40 tent after receiving it, please refer to the Party Tent Instructions for details. If there's any part missing, contact us immediately to get a replacement.
Detail
Extra ground bars

Extra ground bars make the large tent more stable and more wind-resistant on the ground.

High-quality Anchor

The upgraded anchor effectively increases the depth of the pegs into the soil and enhances the tent's resistance to wind and rain.

UPGRADED Galvanised Framework

Top-quality galvanized steel framework and metal corner joint make our marquee more durable