For many people, camping is a way to extricate themselves from the daily grind. The lake and woods can be relaxing, and it's tempting to imagine a babbling brook and tree-lined trails. For different people, the camping equipment they bring varies. Some people may only need a backpack, a pair of hiking boots and a tent are enough. But for others, a comfortable camping environment is more important. So nowadays, many people are not just satisfied with simple camping, they have started glamping. if you are also looking to upgrade your camping trip to glamping, here are some tips on how to make your experience more comfortable.
What exactly is glamping?
The word glamping is a combination of "glamorous" and "camping".In recent years it has become a staple of outdoor recreation programs, such as providing private bathrooms, kitchenettes, or electricity. But most glamping is dressed up by different campgrounds, more like an outdoor type Airbnb in another sense. this type of luxury camping is a great way to introduce new campers to the outdoors or to celebrate a special occasion. You don't need to bring a lot of your equipment, as there is almost everything at the campground. This results in glamping being more expensive for one night and can be out of your budget.
How to make your camping more luxurious
If you're on a budget, you can easily turn your regular camping setup into a mesmerizing paradise with some of your creativity and decorative energy.
One big tent
Using a large tent can give you enough space to lay the foundation for your glamping. You can choose a larger size pop-up canopy with sides or a frame party tent, if you want a comfortable environment you will need a size that can hold more things. For example, if you are two people, then I would recommend that you buy a tent that can accommodate 6 people.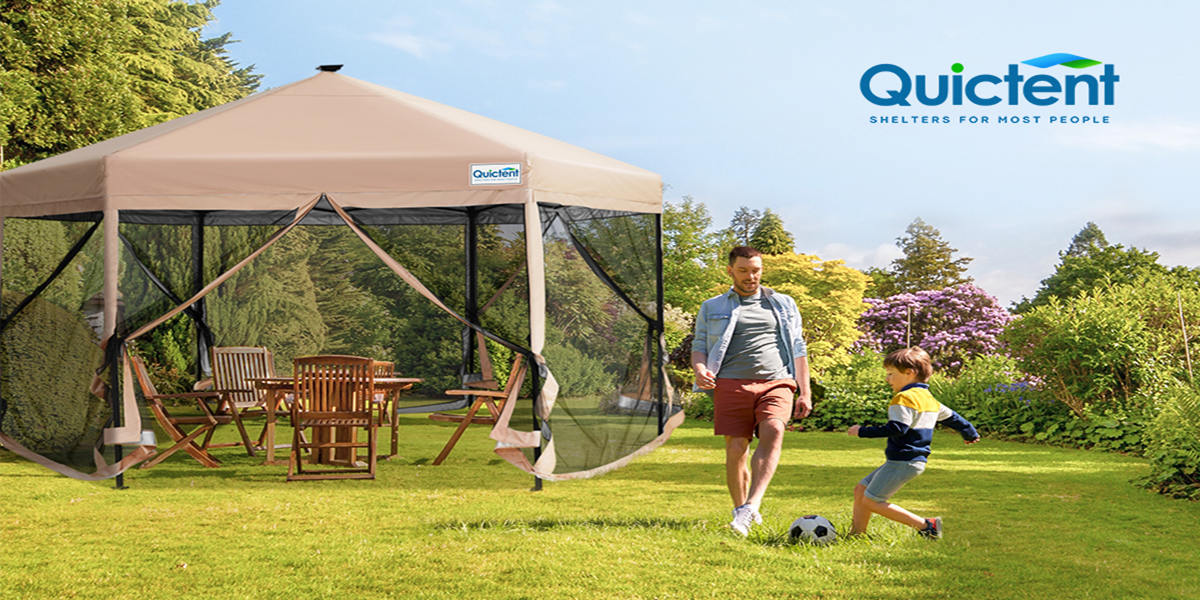 If you are looking for a tent of the right size and a sophisticated look, then the 13' x 13' Hexagonal Pop-up Canopy will fit your needs perfectly. This size can accommodate 6-8 people and the canopy can protect you from rain and UV rays. Includes 3 zippered mesh sidewalls. Anyone who has spent time outdoors knows how difficult it is to avoid mosquito bites in the summer. The mesh sidewalls solve this problem and also ensure good ventilation. If you want the feeling of an open breeze, you can pull open the curtains, or you can close them if you want privacy. The best part is that the frame is equipped with a solar-powered LED light, so you don't need to take it off to store it. It keeps you bright at night and enhances the ambiance at the same time. This kind of canopy tent is very easy to set up and takedown and the included roller bag can easily fit in the trunk. These little details can get you started glamping in a matter of minutes.
Add comfortable bedding
A comfortable set of bedding can relieve the fatigue of the day, but also increase the sense of happiness when going to bed. You can choose an inflatable mattress, and then add blankets and duvets to the mattress to make it more comfortable. If the ground is wet, you can put a moisture barrier under the mattress to keep out any water. Bring your pillow, which is the key to keeping a good sleep. If possible, you can put a few side tables, a rug, a pair of slippers, and your favorite reading book in the room.
Dining Counter
High-quality food and drink can add a sense of sophistication, compared to the usual camping food you can bring a camping stove, which will allow you to make delicious food to the maximum extent. Have everyone plan a meal and see who can get the most creative with outdoor cooking. Grab your bottle of wine and set up a bar where you can chat with family and friends over drinks in the evening and brew a hot cup of coffee during the day - what could be more relaxing? To do this, remember to bring your food boxes and coolers to ensure your ingredients don't spoil due to the weather.
Detail Decoration
String lights. 

There's nothing like the warm glow of string lights to make your campsite feel cozy, adding ambiance to your campsite with a variety of lights. Mini LED lights and candles placed around tents and resting areas provide maximum glamour with minimal effort

.
Tablecloth and cutlery. 

This can give you the feeling of dining in a restaurant, using your favorite color or patterned fabric on a foldable table. Whether your table is old or not it will be covered by the tablecloth. You can also place some plants or flowers on the table to make your table look fancier!If possible, we recommend bringing real cutlery, real plates, and real napkins. It is best not to bring disposable cutlery and plastic products, which are convenient but very environmentally unfriendly.
Colorful hanging fabric.

 It can be hung on the outside of the tent to add uniqueness to the whole tent and make it look more distinctive. Hanging inside the tent can easily feel the romantic and dreamlike experience.
Game or movie night.

 
Bring your game console or some card games, it will be a great opportunity to relax with friends. Or try some outdoor games, like the one inside the hit TV show Squid Games. Not only is it fun and exciting, but you're also guaranteed to have a camping night like no other. If you have a projector and a large white space (a large size white tent will do the trick). Add some blankets, pillows, and cushions under the stars and play a relaxing movie. Make some hot chocolate and you'll have the perfect evening.
Final tips
With detailed planning and execution ability, you can easily carry out your glamping trip. The best part of glamping is that regardless of the equipment, the most enjoyable part is watching the flowing water and green hills, listening to the birds and frogs, this immersive feeling is like being one with nature, all the stress and worries are left behind. This is why I don't want people to spend too much money on glamping. Since you can give yourself a fine camping experience, why should you spend a lot of money to get it? I hope you will be safe and have fun while you are glamping.
You may also like
The 5 Secret To Throwing A Glamorous Ball Party
Pop-Up Gazebo and Pop-Up Tents, Which One is More Worth Buying?