There's nothing more relaxing than tending to your garden and mowing your lawn!  What do you prefer for planting, potted plants ,or burying seeds in the soil? Perhaps you are a planting enthusiast who enjoys imagining and experimenting with a variety of gardening styles.
Now is the time to be creative, you will build a mini exquisite garden with your own hands, which is the ideal growing environment for plants. Large greenhouse tent, mini greenhouse tents as well as glass greenhouses, and other greenhouses can be used as a place for plants to grow. Which greenhouse tent is suitable for a novice?
Why could I try greenhouse gardening?
Using a greenhouse can bring you a lot of surprises and you can easily solve problems that you couldn't solve before. These exciting points include the following. First, you will have more initiative in the growth of your plants. Greenhouses can extend the growing season of plants, and you can purchase facilities to control factors such as light, heat, and humidity. Second, greenhouses effectively protect your plants. Pests and critters will no longer eat your plants.
You will no longer have plants damaged by UV rays. Third, the yield is increased. If you use a greenhouse to grow vegetables and fruits, the yield will be higher than other plants grown outdoors.
In short, greenhouses provide perfect growing conditions for your plants and you can design a style you like, there is no limit to this.
What will beginners consider when selecting and using a greenhouse? 
For a beginner, you may ask a lot of questions frequently during the purchase or use process, even if you have watched some written descriptions or videos. Before buying a greenhouse, you will worry whether you are really suitable for such a growing method? Would it be a waste of money to buy an expensive greenhouse?
Would a simple and cheap greenhouse be more suitable for you? Before you use a greenhouse, you may have trouble with the installation process. As someone who does not have any greenhouse growing experience, you may also encounter some growing troubles.
Which greenhouses are better for beginners to buy?
Not all greenhouses are suitable for an inexperienced person to get started, this is because some greenhouses are more complicated to build and maintain.
To reduce concerns, a beginner should try an affordable greenhouse, such as a greenhouse tent. Cheap large and small greenhouse allow beginners to have no financial worries.
Lightweight, portable and easy to set up greenhouses are great options for newbies because the whole process is easy to set up and can be easily done by two people.
It is best to buy a greenhouse with accessories for reinforcement in the package. Greenhouses will face the test of high winds in winter and beginners can get flustered, and accessories can be helpful to novices.
Three common types of greenhouses
Practical large greenhouse tent
A large greenhouse tent is a common greenhouse, if your home has a large backyard, then you can buy one of these greenhouses. many large greenhouses are very affordable, everyone can afford to buy such a greenhouse.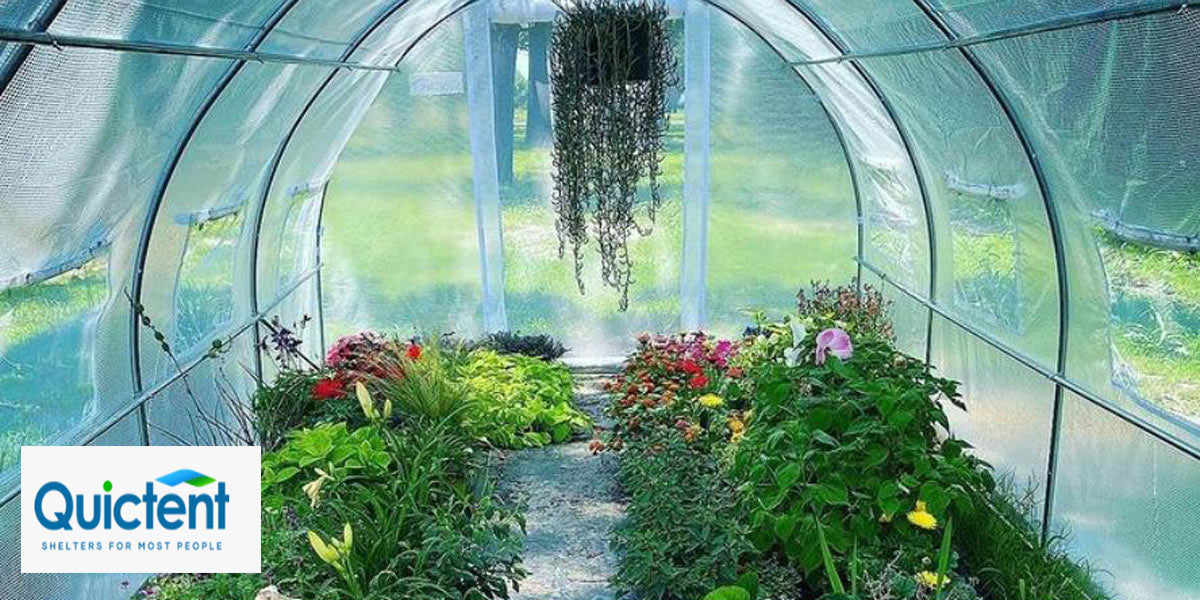 And you only need to spend a very short time to quickly build a greenhouse. If your home has a large garden and you have never been exposed to this new style of growing, you can start your greenhouse practice by purchasing a large greenhouse tent.
I would like to recommend this greenhouse from Quictent because it is fantastic and very beginner friendly.
The 10' x 9' x 8' Backyard Greenhouse is a greenhouse for everyone, it's a cheap greenhouse, but it's very functional and great quality. Many users are very happy with this cheap greenhouse and say they will continue buy it.
You can assemble the greenhouse in less than five minutes, or you can install it on a hard surface like soil or concrete. The portable greenhouse is medium sized and you can find a perfect open space in your yard to set it up.
This greenhouse has a heavy-duty powder-coated steel frame for a very solid structure and five exhaust vents for ventilation and exhaust. You can reinforce your greenhouse with an additional 12 stakes for bad weather such as rain or snow. 
Flexible small greenhouse
Small greenhouse is more suitable for small gardens than large greenhouses. mini greenhouse is also ideal for beginners because it is smaller, easier to build and store and does not take long to build a mini greenhouse quickly. They will be more willing to explore more ways to use it.
Mini greenhouses are very flexible, so beginners can set them up on grass or in the dirt. The flexibility of use allows beginners to become more familiar with the use of greenhouses, they can also create their novel ways to use.
A great mini greenhouse for you. 95" x 36" x 36" Small Greenhouse is a particularly beginner-friendly small greenhouse that provides the perfect solution for smaller gardens that cannot accommodate a traditional greenhouse.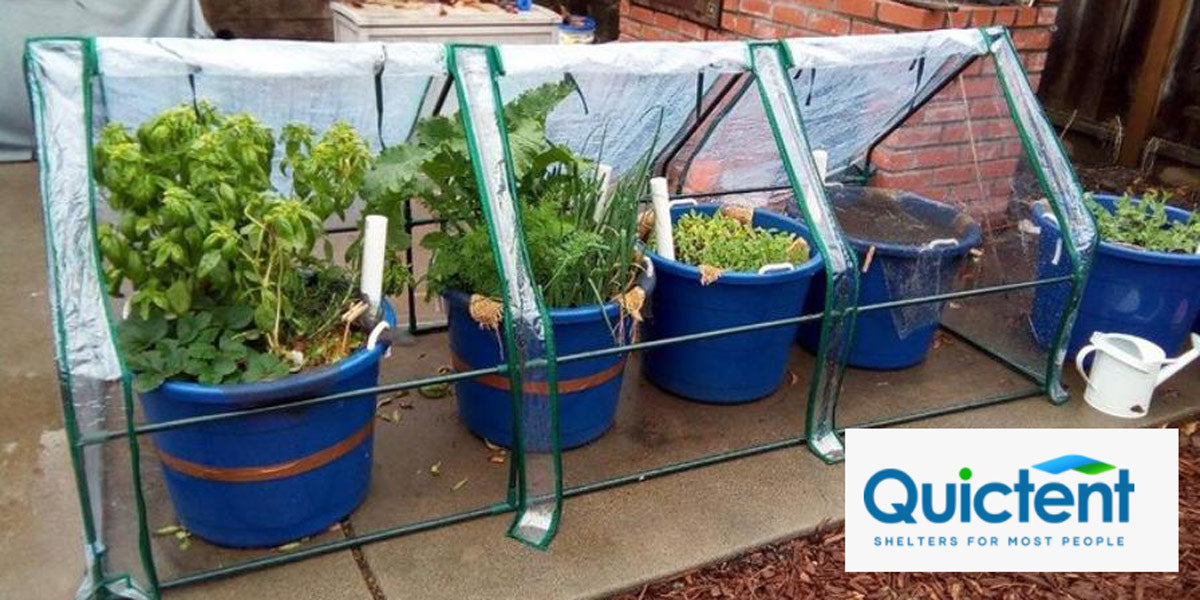 This mini greenhouse is a little longer than the average small greenhouse, protecting more flowers, fruits and vegetables, and at a very affordable price, it's a great value for the novice.
This mini greenhouse is fully functional. The flexible side zipper door makes it easier for novices to care for their plants and allows for better air circulation. The sturdy, heavy-duty powder-coated steel frame makes the greenhouse less likely to warp and bend and collapse. The clear PVC cover is UV and water resistant, very sturdy and does not tear easily, giving your plants the best care.
For your convenience, there are 50 white T-tags in the package, which are versatile enough to mark your plants and record their growth. 
Beautiful glass greenhouse
Glass greenhouse is a kind of greenhouse with high ornamental value, this is since the fact that the glass greenhouse is completely transparent and people can enjoy the view of the plants inside from outside the greenhouse. Many very experienced and aesthetically pleasing growers purchase or design and build their own glass greenhouses.
Because of the large size of glass greenhouses and the fact that they often need to be set up in conjunction with landscape design, larger gardens are more suitable for glass greenhouses.
Although glass greenhouses are very beautiful and the greenhouse landscape is very inviting, this type of greenhouse is not suitable for novice builders.
First of all, the shape of a glass greenhouse is not necessarily a single curved shape, it has a more complex shape and structure, and you may encounter a lot of trouble in the process of setting up.
Secondly, glass greenhouse requires more demanding materials and is more expensive to build. Glass greenhouse may only be suitable for spring, summer and early autumn. In winter, perhaps the glass greenhouse will break or even collapse because it cannot withstand the pressure of high wind and rain and snow.
Third, if you want to build a glass greenhouse, you need to be completely sure of a site because moving a glass greenhouse is a difficult task.
In short, glass greenhouses are not ideal for beginners who want to experiment with more growing styles without too much stress. Of course, for a very experienced grower, a glass greenhouse is worth trying. 
Free your hands and brain to create
It's great to be curious about an area you haven't touched before, don't feel scared or panicked, you can explore and learn everything you want to know. By using your hands and brain to learn about the unknown, you will become more creative and open to discovery, and in the future, you may become a good gardener or planting expert, will this make you feel very accomplished?