When it comes to outdoor activities, pop-up canopies have become indispensable in providing shade and protection from the elements. Whether it's a backyard party, sporting event, market booth, or camping trip. Having a durable pop-up canopy will change the game. Quite a few tents offer fancy looks and customizable options.
However, such canopy tents can also be more expensive in terms of price. If you're on a budget but need a pop-up canopy, you've come to the right place. We'll introduce you to a few very cost-effective and durable pop-up canopies that are plain in appearance but high quality. 
Advantages of the plain pop-up canopy
While sophisticated designs attract more attention, the trend of minimalism is growing. This is also expressed in the choice of pop-up canopy, while the advantages of a plain look are unexpected.
Multiple occasions
In contrast to canopy tents that are customized for commercial settings, the plain look allows them to blend into a variety of settings, making them suitable for a wide range of occasions. Whether it's a casual party event or a serious business event, plain canopies are a great addition.
(Canopy tent in the market) 
DIY-friendly
This solid color canopy tent can maximize your creativity. You can paint or stick all kinds of decorations on the canopy yourself, or add promotions such as banners or posters. Let its appearance can be changed according to different occasions and festivals.
Budget-friendly
Plain pop-up canopies will certainly be more affordable than those with complex designs. They are an attractive option for those looking for a cost-effective outdoor shelter solution. But that doesn't mean a difference in quality either - many pop-up canopies are only cosmetically different, but the frames are the same.
Quictent's durable pop-up canopy is under $100
Quictent offers a variety of styles of pop-up canopies, and theirs below are not only plain looking but under $100.
No-Side 10' x 10' EZ Pop-Up Canopy
It's perfect for commercial settings with no extra decorations or accessories. Yet there is plenty of room, with the 10x10 size providing 100 square feet of space. The best thing about this pop-up canopy is the ability to shade the sun while having good air circulation.
(Quictent pop up tent) 
It has an easy-to-set-up frame with adjustable heights, which provides the user with customization options for specific needs. It can give you the flexibility to set up a simple shade quickly.
10' x 10' Pop up Canopy with One Sidewall 
Same 10x10 size, but slightly different in appearance. This 10x10 straight-leg canopy offers a removable sidewall that has storage pockets and comes in different sizes. These storage pockets can hold up to 2.2 pounds.
The frame is also durable corrosion-resistant powder-coated steel for extended life. This style of canopy is suitable for a variety of occasions such as a friend's gathering or a farmer's market.
1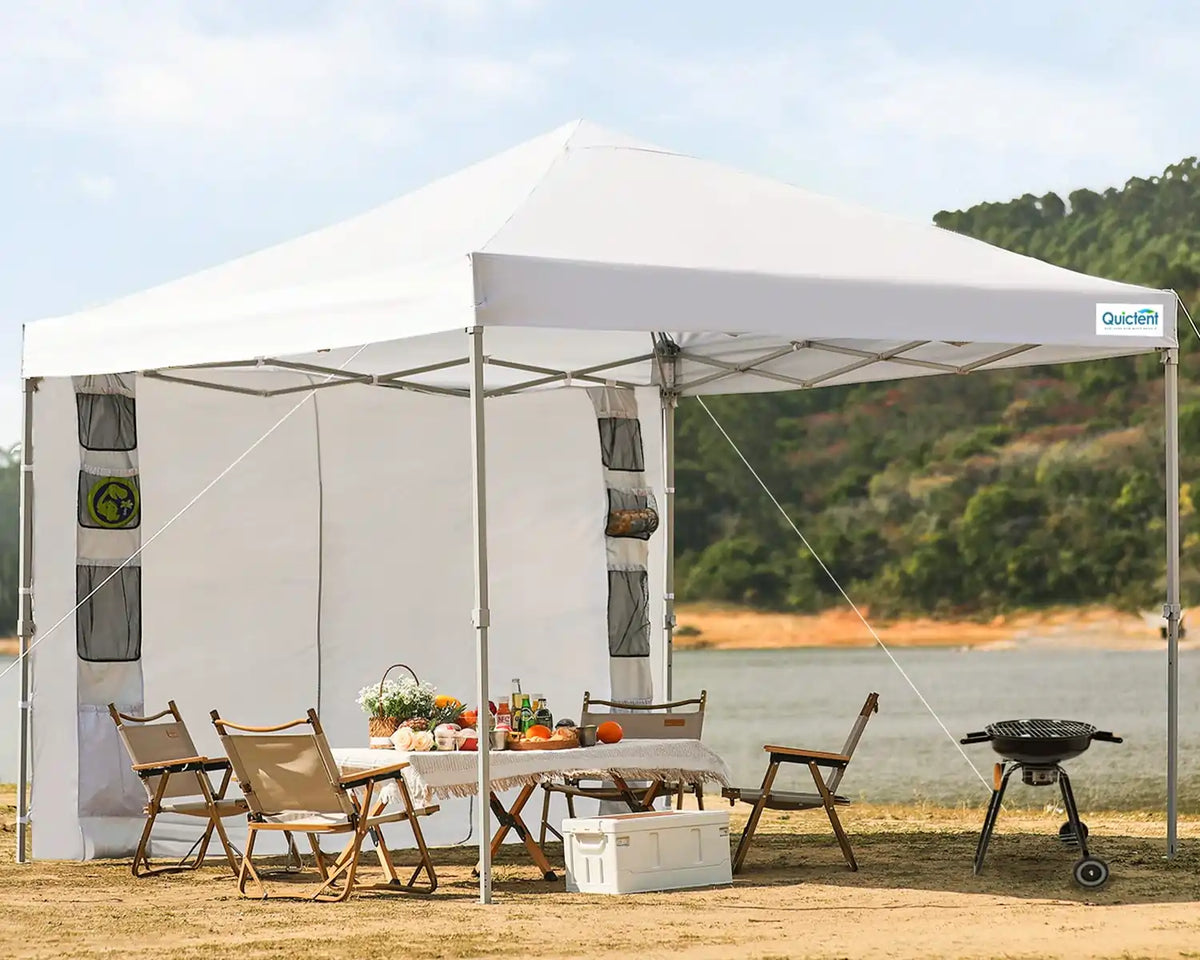 Compact Portable Beach Canopy
Quictent's new compact canopy is quite different in appearance from the previous two models. First of all, it has a slanted leg setup for the frame, although there is no precise height adjustment setup you can also adjust the frame to shade the sun.
Secondly, it is lighter in weight and smaller in frame size, making it easier to carry. The center lock design makes it easy to set up even for one person.
There is also a ventilated design at the top, and the canopy leg pouches can be used as both a storage bag and a place to put heavy objects for added stability.
Overall this is a very practical pop-up canopy for the beach or camping.
2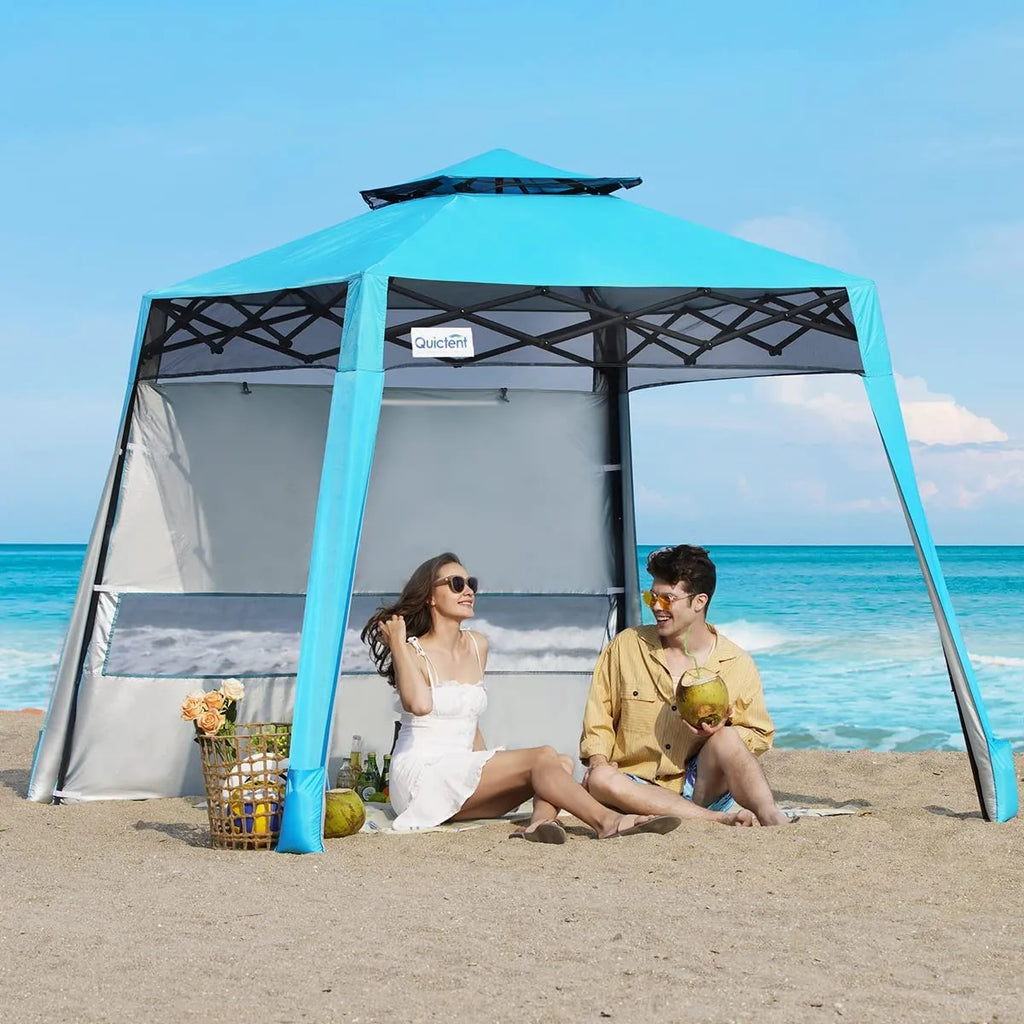 Conclusion
With pop-up canopies, simplicity, and durability are key factors in ensuring reliable and long-lasting performance. Simple but durable canopies offer versatility, timeless appeal, and affordable prices, making them highly recommended for a variety of outdoor events and activities.
Quictent's pop-up canopies meet most people's needs for tents with their sturdy construction, waterproof and UV-resistant canopies, and height adjustments, among other designs. And these quality products won't break your bank either. A reassuring warranty and excellent customer service allow us to be the right choice for you.