Outdoor décor is just as important as interior décor in terms of value, and sophisticated outdoor décor can give you a comfortable and relaxing environment as well as add a sense of ambiance to any backyard event. Backyard makeover takes some time and effort to complete, but please don't worry, the process is not as complicated as you think,as long as you put your efforts into it you will be able to achieve the results you want. If you're one of those people who want to do a backyard makeover but don't know where to start, don't fret. Whether you want to increase the value of your house or want a whole new style of outdoor space, here are many simple ideas that can help you achieve your goals. The best part is that you can get most of the decorating done in the shortest amount of time, and here are some suggestions to help you get a good start.
Organizing backyard objects
If you have a lot of debris or weeds in your backyard, then you need to clean them up first before you make any changes to your backyard. We need a tidy environment to get a better start, and if you have a lot of tools to store in your backyard, then you will need an outdoor storage room to organize your tools. For example, weed whacker or painting tools will allow more space for you to decorate the backyard while making the whole backyard look neater.
Create a shaded space
It is very important to have a shaded space, after all, UV rays are present all year round. And UV rays can easily damage your skin, and a shaded space can easily solve this trouble. Of course, there are very many types of shade tools you can choose from, such as gazebos or large shade umbrellas. But I would recommend adding a structured space to give you maximum shade, and a new space that can be used for multiple purposes. There is nothing better than adding an elegant new structure to your backyard, provided you have enough space for a pop-up gazebo. A pop-up gazebo is more convenient and easier to build than a regular gazebo. Setting up a pop-up gazebo in the backyard can make it feel like a sanctuary for leisure time. 
You can place it on the grass or the terrace, and inside you can place your outdoor furniture. In addition, the pop-up gazebo's roof is made of waterproof and UV-protective fabric, which can protect you from UV damage and protect your furniture from rain damage. The triangular shape of the canopy also ensures that rainwater will not collect. Different types of sidewalls can be added according to your needs. The mesh sidewalls can prevent annoying mosquitoes and ensure good ventilation. A curtained sidewall provides more privacy and adds ambiance if you want to host a small backyard event. A gazebo is even a perfect place for outdoor dining, and it enables you not to worry about the weather factor. Or set it up as an outdoor bar for you and your family to enjoy a delicious drink outdoors, with a sidewall to keep the sun out of the bottle to ensure it doesn't spoil. In addition, a pop-up gazebo can have many uses, it can become your playroom or your outdoor studio. Even in the winter, you can make a small investment in a heater that will allow you to enjoy maximum comfort.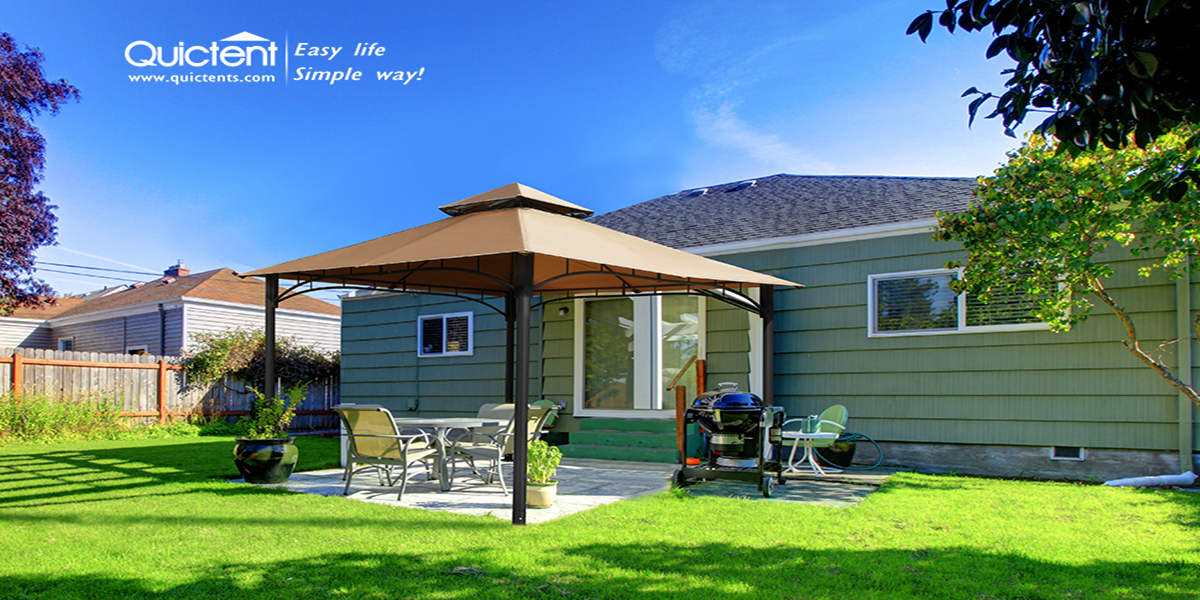 If you're looking for a pop-up gazebo, then I would recommend the 10' x 10' Patio Gazebo with Netting. perfect for home use and more affordable than a regular gazebo. The frame is made of rust-proof coated material and the double-row roof provides better air circulation. The bridge-shaped frame adds stability and durability to the real gazebo and gives it a more ornamental appearance.
Tend your garden
Plant your flowers and plants in a regionalized manner according to species. Different kinds of plants can easily entangle their roots if they are planted randomly in the same area. Planting by species will look nice and neat and will be better cared for. When winter comes, you may want to consider upgrading your garden equipment. Installing a greenhouse would be a good choice, and if you only need to maintain your flowers and plants then a mini greenhouse would be sufficient. A greenhouse can protect your plants from damage caused by cold winds. If you want to grow some vegetables in your yard, a medium-sized greenhouse is more in line with your needs.
Adding gravel paths
We all know that a path formed by trampled grass is not as aesthetically pleasing. Adding a clear stone path to your backyard can make your backyard look more sophisticated and elegant. You should also determine the distance between each stone before installation, preferably between your natural walking feet, which will be the most suitable distance for you. As for the width on average will be between 3 to 4 feet would be more comfortable. First consider the type of path you prefer, a simple stepping stone or a complex sidewalk. Take the time to create a horizontally stable surface and choose the materials, and you'll end up with a nice path.
Perhaps an outdoor kitchen
An outdoor kitchen should be something that every homeowner is thinking about adding. And of course, who wouldn't love to have a barbecue party outdoors with family and friends? The openness of the outdoors can bring a refreshing feel to everyday family gatherings and add a festive touch to the mundane holiday atmosphere. Adding an outdoor kitchen doesn't mean you need to buy all the kitchen supplies, you can add what you want such as a grill or an oven. If you don't have the space or budget to provide a full outdoor kitchen, consider adding outdoor dining facilities in your backyard and keeping food nearby. This will provide you with an affordable and space-saving outdoor dining experience.
Now that you have learned about backyard decorating ideas, the next step is to add your ideas and needs to turn your dreams into reality. In conclusion, you will be able to achieve the perfect backyard you have in mind with these efforts and some high-quality products. Trust me, the investment at the beginning will be worth it compared to the comfort afterward.