Have you noticed that outdoor weddings are becoming a trend these days because of the epidemic? There is always a risk of spreading an epidemic when multiple people gather together in an enclosed space, and no one would want that bad thing to happen on their most important day. So while you're still fretting about your wedding venue, an outdoor wedding is your best option. You can even have your ceremony right in your backyard without having to worry about anything else.
Unlike indoor weddings, you can get a better view of nature as well as the atmosphere by having your wedding outdoors, and the beauty of the natural environment allows you to not have to bring too many decorations. The openness of the environment can also make people feel better and there will be a more casual and relaxed feeling. The wide-open space of the outdoors also allows you to set up more party items and have more space to move around. Couples and guests will be able to dance as they please.There is no better season for outdoor weddings than now in the fall or spring, when there is no excessive cold or heat. You can feel the breeze and the fresh air when you stand outside. This is something you can't do with an indoor wedding.
Of course, no outdoor wedding is complete without a tent. A party tent can be the focal point for both ceremony and reception. If there is some special weather on your wedding day, a tent can also be a shelter to protect you.
However, the use of tents for outdoor weddings will still have many things to pay attention to, if not carefully prepared, then perhaps your wedding will become a disaster.
Pay attention to weather
Weather plays an important role in outdoor weddings and heavy rain and extremely hot weather can potentially ruin everything. So be sure to make a backup plan when you start preparing for your outdoor wedding, which will represent what kind of material you should buy for the tent or change the venue to indoor.
Make sure the size of the venue and the number of guests
Both of these factors are directly related to the size and shape of the tent you buy. Most tents will be rectangular or round, but there are also squares, depending on your needs. If you want to hold a small wedding, then I would recommend a tent of this size 20 x 20 party tent, which can accommodate roughly 65 people. It comes with a canopy and removable sidewalls. There are three windows on the left and right sides to ensure air circulation while being aesthetically pleasing. Even after the wedding, it can be used as a temporary garage or storage room. The addition of ground rod sets and roof and side support beams greatly improves stability and can withstand stronger winds.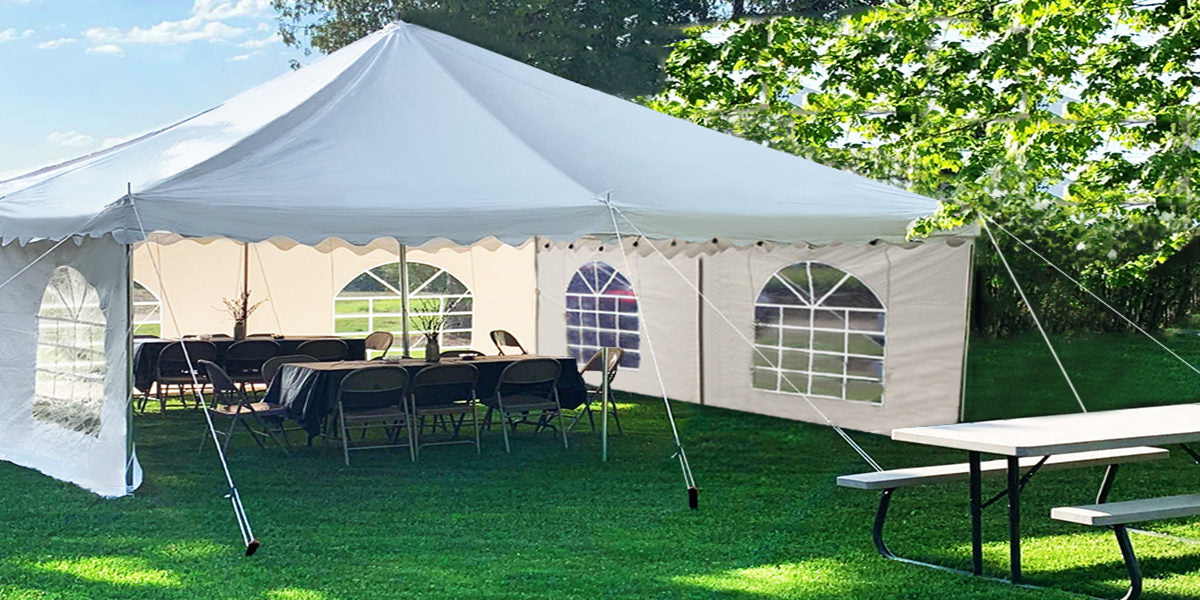 At the same time there is also a 20 x 20 size but is square, in the material is different is the use of PVC fireproof material, can guarantee your safety to a greater extent. All four walls have two windows, transparent material allows you to enjoy the beauty of the outdoors while allowing the sun to shine on you.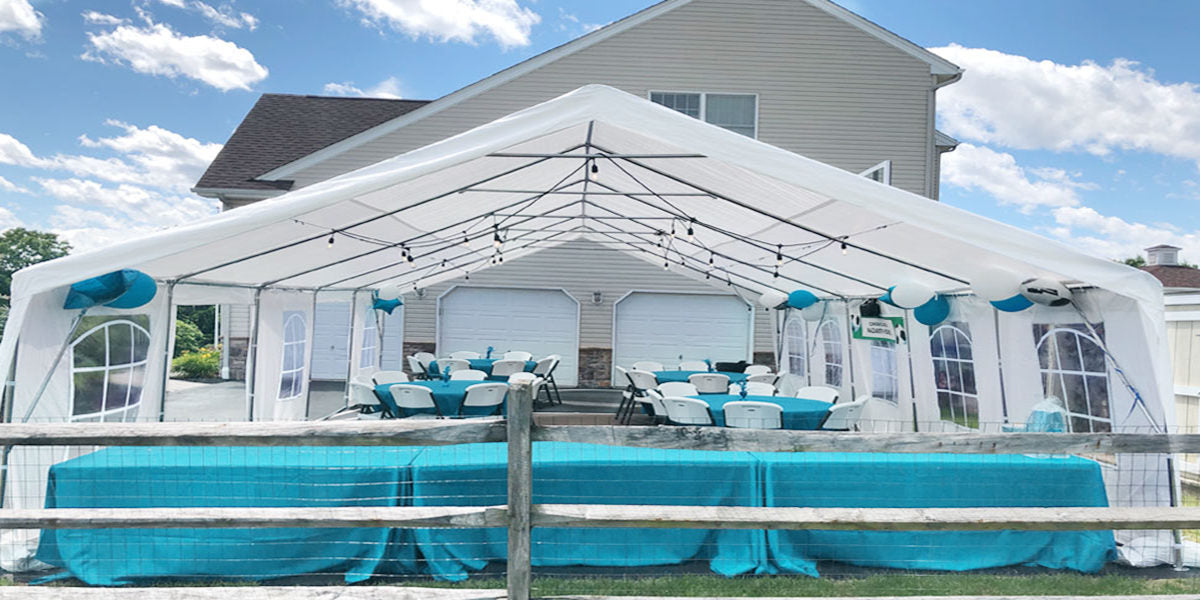 Of course, large party tents are also on our list of offerings, 20 x 40 wedding tents of this size can accommodate about 125 people.Their structure is very simple, unlike other tents that will take a long time to set up. With a unique triangular construction, the upgraded steel tubes are more robust. There are twelve removable sidewalls and ten windows that allow you to decorate as you wish.
Installing flooring is also an option
Perhaps many people will not think about the matter of installing flooring inside the tent, but in fact, sometimes installing flooring is a necessary choice. Especially when it rains the mud and mess on the grass can become an absolute nightmare.Lighting and sidewalls are equally important, and this is especially important if you have an evening event, as it will be dark outside and you won't be able to see the view even if the sides are open. If there are no decorations on the sides it will also lose the atmosphere of the wedding. 
Something small but crucial
First,microphones and speakers may seem like an optional presence, but they are also important at outdoor weddings, whether you're giving a speech or inviting a professional band to perform. Proper sound equipment can ensure that everyone present hears your voice. If guests want to sing live that's another fun part.
Second, keep it simple.Think about the style you want, so that you can smoothly follow the purchase of materials, whether it is chandeliers or flowers or some small ornaments are related to the style of the whole wedding. Too many programs or items can make people forget other more important things. And cluttered items may block guests or other important exits. Remember, less is more.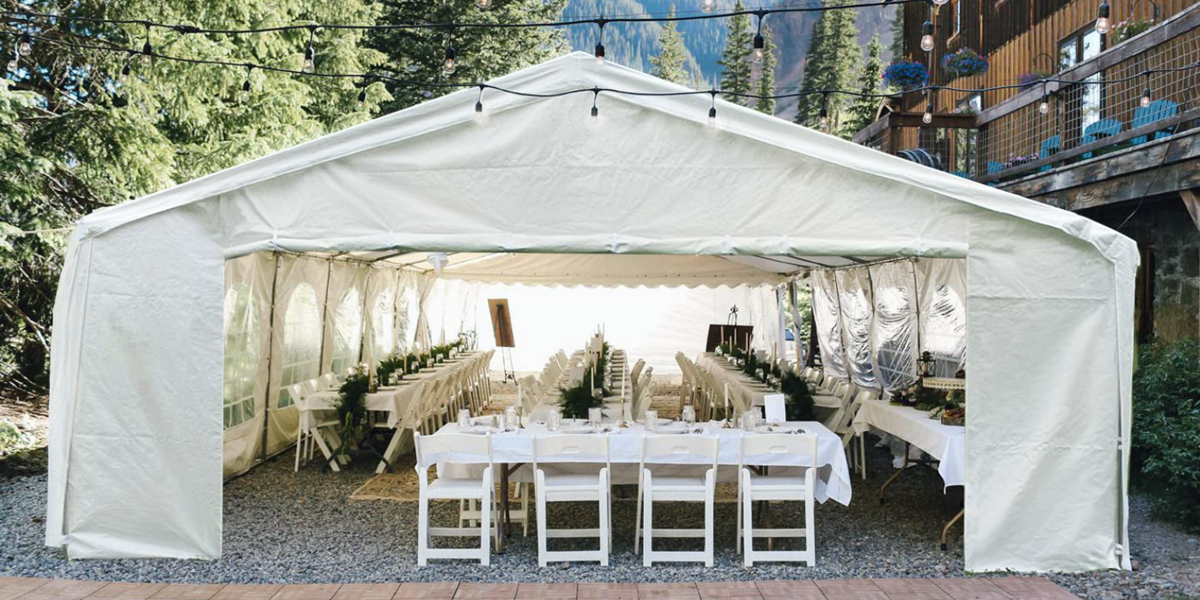 Third, pay attention to the food at outdoor weddings. The weather can affect certain foods, for example, never share a buttercream cake outdoors in the summer, as the buttercream will melt very quickly in the hot sun. Also, food outdoors can attract a lot of bugs, so you need to consider the freshness of the food. And the tent can play a part, Quictent party tents are made of heavy-duty waterproof PVC material, but also be able to isolate the mosquito infestation. So you don't have to worry about the comfort of your guests and the safety of things.
You can also place some mosquito spray or sunscreen in a fixed location, and if it's a colder season, you can prepare some body warmers. Or prepare some seasonal drinks, chilled lemonade in summer or mulled wine in winter. All these small details can make your guests feel more comfortable.
Tell your guests to be prepared
Tell your guests in advance that this is an outdoor wedding so that they will have plenty of time to prepare themselves for the outdoors. Because not all shoes are suitable for walking on rocks or grass, and the weather is always different outdoors than indoors, we don't want our guests to feel uncomfortable because they're wearing the wrong clothes.
Don't feel stressed
Preparing for a wedding should be a happy thing, don't feel anxious because of it,and preparation takes time, take your time. When you feel overwhelmed you can communicate with your partner or family about the matter, share your opinion with others,and maybe you can get more inspiration. Whether it's planning a wedding or setting up a tent, it's a process that starts from scratch, enjoy the process. When it's all done, you'll feel that all the hard work was worth it.