Every October is Breast Cancer Awareness Month, which was founded in 1985 by the American Cancer Society and Imperial Chemical Industries. Breast Cancer Awareness Month's logo is the pink ribbon.
Breast Cancer Awareness Month exists to remind and educate us about the need to understand and prevent breast cancer. At the same time, with this knowledge, we can inspire those affected by breast cancer.
If you would like to do something impactful this Breast Cancer Awareness Month. Here are some meaningful activities that allow us to honor survivors, and remember those who have lost their lives. And work together to realize the mission of creating a world free of breast cancer.
Understanding breast cancer and providing education
When you want to get involved, first you need to understand breast cancer. This month is the perfect time to do it. You can also get more people to get involved by sharing knowledge about breast cancer risks, and screening options.
Share breast cancer screening reminder posts and information about Breast Cancer Awareness Month on social media.
Sharing awareness brochures and articles at neighborhood events.
Bring up the topic of breast cancer screening at gatherings to empower participants with the intention of cancer screening.
If you own your own business, whether it's a vendor or a company. All can attract attention by posting Breast Cancer Awareness Month signs and posters in your office location.
Regular checkups and early detection are key to this disease, and providing educational information is one of the most important ways to support this cause.
(Pink ribbon) 
Participation in activities
Each year, different events are organized around the country for Breast Cancer Awareness Month. This year in New Jersey, for example, there will be Making Strides at Century Office Campus on October 22nd, There is also an event on the same day at Middlesex County College. It's a celebration of courage and hope, and it's a movement that unites communities. Participating in such events connects with and supports people affected by the disease and provides funding.
Also in Alaska, there will be events organized by hospitals. For example, there will be a Breast Health Panel Discussion on Tuesday afternoon, October 24th at the Kachemak Bay Campus. At this event, screening guidelines, personalized treatment care, and more will be discussed.
And at 15544 Ridge Park Drive in Houston, there will be a Breast Cancer Walk at 9 a.m. on the 21st.
(Making strides)
You can search your local area to see if there are any officially organized events for Breast Cancer Awareness Month. You can participate with more people. The collective spirit of this gathering is incredibly uplifting.
Become a volunteer
Besides attending activities, there is also the option of becoming a proud volunteer. Help those people attending the event as well as raise funds through your support. There are a variety of volunteer roles that you can go for depending on what suits you.
Listen to people with breast cancer and mentor them to help them understand the support available.
Help people with information, leaflets, and resources and what the clinic can offer patients.
Join a fundraising group to raise money for support for breast cancer patients.
Volunteer to drive patients to appointments when needed
Even small acts of kindness can have an incredible impact, which tells those affected by breast cancer that they are cared for and supported.
(Volunteer at Breast Cancer Awareness Month)
Organize theme parties
Explore Breast Cancer Awareness Month more creatively! Throw a themed party and get friends and family involved.
Since pink ribbons are the symbol of the month, set the theme color of the entire party to pink. Pink balloons, napkins, and even food. Set up the napkins with the Breast Cancer Awareness Month logo and hang little pink flags. These decorations will fit the theme perfectly.
Foods that are crucial for parties can also have pink options. Examples include pink chocolate, strawberry milk, and raspberry soda.
Pink Canopy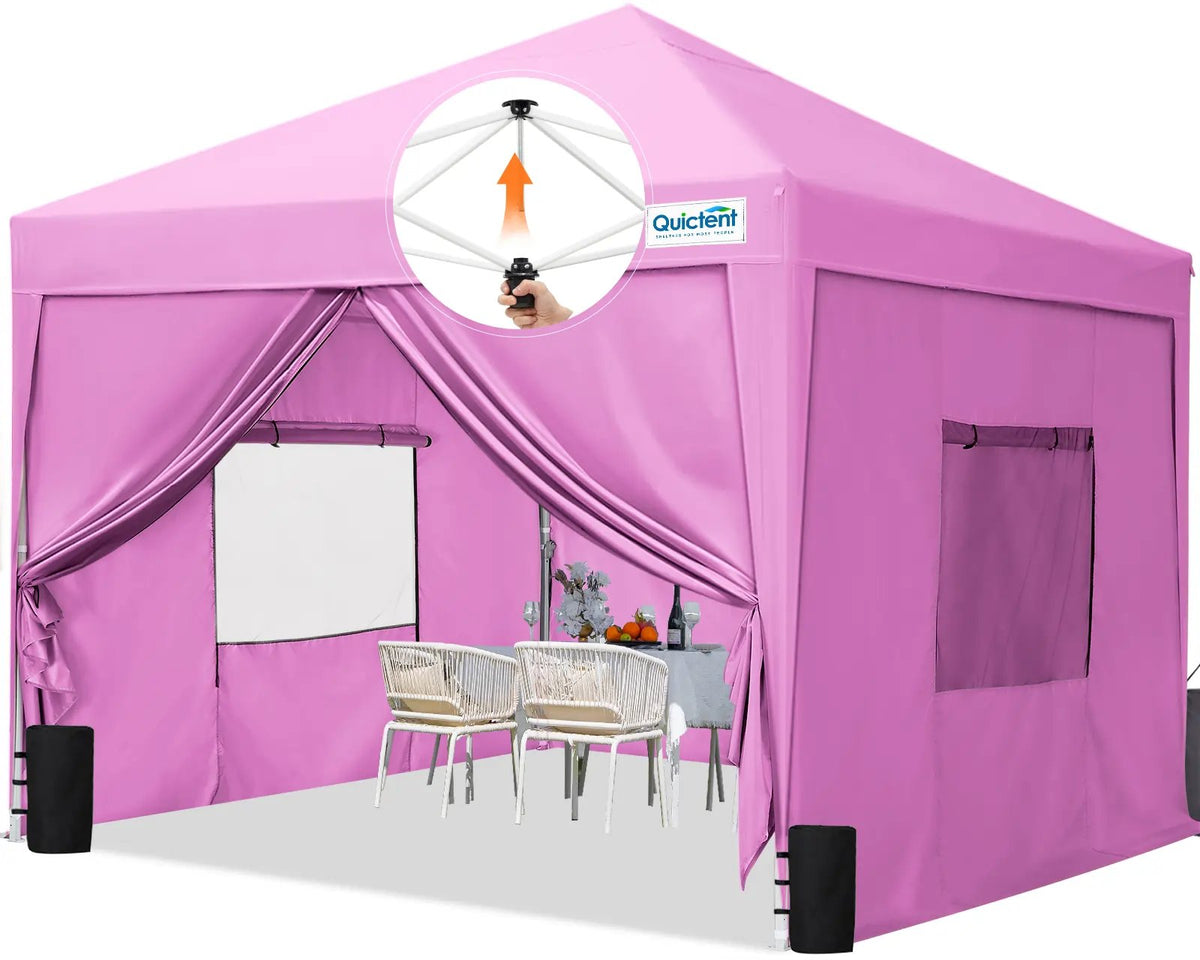 If you want to host the party outdoors, an instant shelter will protect you and your guests from the weather. A pink canopy fits the theme of the party, and the sidewall option gives privacy while providing a cozy environment.
Party games
Add some fun activities when organizing a party to make it memorable and enhance the atmosphere of the event.
Pink fashion show: Have guests wear pink suits and add exaggerated accessories such as pink wide-brimmed hats, feathered scarves, or even pink tutus. Walk the runway, swap outfits, take photos, and finally choose the best dressed of the day. Prizes can be pink sunglasses, hair bands, or desserts.
(Breast Cancer Awareness Month party)
Home auction: Like a yard sale, only in the form of an auction. Organize a few unused items and the starting price can be as low as $0 or $5. Let guests bid on the items and the highest bidder wins. Of course, it doesn't have to be items, it could be things like "travel destination discretion" or "chore exemption". Proceeds from the auction can be donated to the Breast Cancer Foundation to help those in need.
Knitting hats: Sit down with your guests and chat while you knit hats. Donate them to a local chemotherapy center. These DIY knitted hats will keep patients who have lost their hair after chemotherapy warm in the winter.
These activities are small but equally meaningful. Every little bit makes a difference when you start taking action for Breast Cancer Awareness Month.
Caring matters
"Pink is stronger than you think." This is one of the slogans for Breast Cancer Awareness Month. The month of October is an opportunity for us to take action each year while encouraging everyone to strive forward.
Regardless of the way you take part in Breast Cancer Awareness Month, as long as you show that care, it's a change. After all, you are part of a collective voice declaring that we will realize a better future without breast cancer.