Whether it's a 5, 10, or 25th anniversary it's something to celebrate. It's a special day that represents how far you've come. And on such a unique occasion, it's essential to throw an anniversary party of your own. Whether it's an intimate dinner for two or a lively outdoor party for many people, a party tent will be just what the anniversary event needs.
So, to make your anniversary party perfect. We have consolidated more information about anniversary party tents.
Benefits of using party tents for anniversary parties
Large party tents have a spacious enough interior to provide a comfortable environment for outdoor parties and can accommodate multiple people.
When you are outdoors enjoying the serenity that nature brings, party tents can provide great weather protection from the sun and water.
Party tents are also available in different party styles. Let you decorate according to your favorite style to achieve the desired effect.
When you want a private environment, it can also be created for you. Party tents with side walls can keep your anniversary undisturbed.
(Quictent party tent)
Different party tents for anniversary parties
First of all, party tent has different types and styles. And those uniquely shaped tents will make the anniversary party different. For example, the spire design of the pole tent and high-peak tent will make the whole event look more exquisite.
The frame tent, on the other hand, has a regular look and unobstructed space. They are easier to install and remove and are more affordable.
If you want an intimate party for two or a family gathering. A 10x20 party tent can accommodate 10-15 people, plus 8' Banquet Tables. For smaller parties, you can put in a projector and turn it into a private theater for a movie night.
And if it's a large anniversary party, then the 20x40 tent will solve your worries. The 20x40 tent can accommodate up to 80 people and 8 tables, providing 800 square feet of space. If you have extra space, you can also install the party tent floor as a dance floor. Take anniversary parties to the next level.
Anniversary party ideas
Vintage ball party
Vintage style always resonates with a lot of people. Whether it's the 60s, 80's, or New Millennium style, it's a theme that has always flourished at ball parties. Decorations can be chosen according to the style of the era, such as hanging chandeliers or vintage string lights. The colors can be black and gold, or baby blue, dusty pink, or grey to represent the 80s.
When people step into the party tent, they get the illusion of traveling back in time so they can enjoy the old-world charm. Besides, you can also incorporate a vintage-style photo booth or a retro-themed dance floor to leave unique images and memories.
(Ball party) 
Karaoke party
This is an extraordinary way to spend an anniversary party for multiple people. Bring a microphone for a singing contest, which definitely adds to the fun of this party. Ribbons can be hung inside the tent to simulate a karaoke scene. Note that when the time comes for the night, it's best to stop singing. Don't disturb the neighbors.
Garden oasis party
When you are in a busy city, you are always in a hurry, full of fatigue and stress. When encountering hustle and bustle, do you long for an oasis to find peace of mind?
Why not create an oasis-style anniversary party? Set up your party near a garden where there is no distraction, just the scent of birds and flowers. Decorate the inside of your tent with flowers, potted plants, and vines. Hang vines on the frame or fix a few flowers. Create an oasis. For tablecloths and cutlery, you can choose ones that have botanical prints to stress the style.
If the budget allows, you can also customize a small flower arch to create a more dreamy style. There's nothing better than feeling the wind blow as you stroll through the verdant grounds.
(Garden party) 
Rustic glamour party
For those who favor a more simple anniversary party style, we recommend the Rustic Party. Instead of too many decorations and fancy ornaments, you can go for wooden tables and chairs. Solid-colored tablecloths and tableware, simple lanterns, or candles add warmth.
This cozy environment will make people feel comfortable and relaxed. There is no need to arrange too many activities, just sitting together with drinks and chatting is already enough.
Backyard BBQ party
This party style needs no further explanation. The decorations are not its focus, for a BBQ party, the food is the soul. For a different kind of BBQ party, have the guests attending bring their specialty dish or favorite drink.
This reduces the host's stress of preparing the food and allows them to share food and drinks. It's a great opportunity to strengthen understanding and bonds with each other, whether it's family, friends, or coworkers.
(Backyard BBQ party)
Conclusion
Anniversaries are well worth celebrating. While a party tent doesn't provide the full party experience on its own, it exists as a way to provide extra space. For a complete outdoor party amenities such as a dance floor, tables, chairs, and hanging decorations can be set up according to your needs and preferences.
Party Tent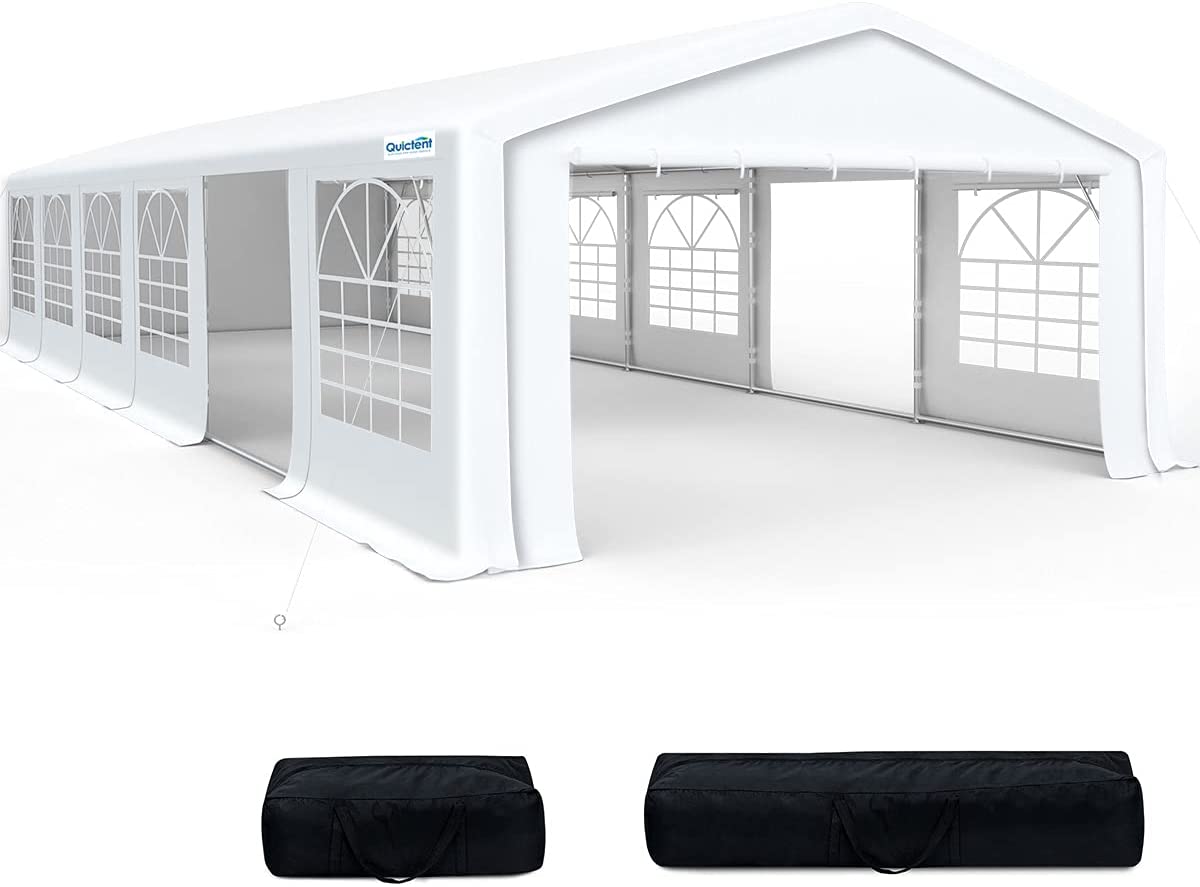 Quictent Party Tent
Size:

8 sizes to choose from

Shipping:

3-5 business days
Celebrate anniversaries as everyone spends an unforgettable night in a one-of-a-kind setting. A party tent always adds that special touch that makes the occasion feel extra important and meaningful. Best of all, it ensures rain or shine.
Your party tent will be a treasured space to cherish milestones, years past, and many more to come.