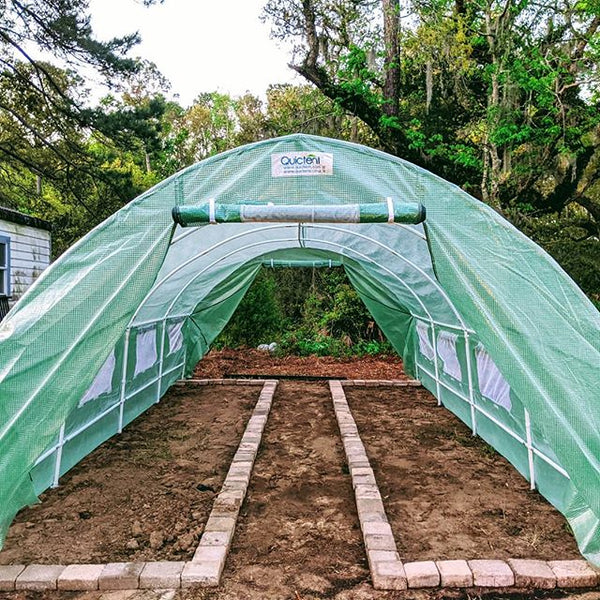 Getting prepared in advance is always a correct response in whatever situation. Autumn is fast approaching as it is at the end of August, and with it, the wet and rainy weather that marks the changing of the seasons, which is not a piece of good news for garden fanciers. It's time to consider an investment for a greenhouse. In this blog, we'd like to give an overview of greenhouse benefits and general assemble steps.
There are at least major benefits.
Weather Protection.

Every garden fancier would cross fingers to pray for good weather after planting seeds. However, as the saying "That's the way the cookie crumbles" goes, we can't control everything, especially how the weather goes. It just(and only) depends. The greenhouse builds a wall to fight against unseasonal temperature swings. For example, exceptionally frosty mornings in May or a hot day in October. A greenhouse is also helpful to diffuse strong sunlight while sufficient ventilation flows throughout. Thus, your plants thrive without a doubt.

Pest Prevention.

The growing season offers a whole different world to discover, filled with organisms that take the time to feed themselves (and probably a new family). Yes, they are pests and predators like moles and birds. A well-built greenhouse protects plants from their attack. This also reduces the need for toxic pesticides or chemicals that ward off unwanted critters.

Longer Growing Season.

Given the controlled temperature, humidity, sunlight, and wind protection, it's obvious that your growing season is more flexible. You can get ready ahead of the season and end planting later. Nothing is better than a longer growing season for garden lovers, right?

More Plant Options.

For a better harvest, we have to stick to local plants in most situations. With the help of a greenhouse, the local geography is not only the rule-maker - you can take control of the temperature, humidity, sunlight, etc. inside the greenhouse. That is, as long as you understand the conditions your plants need to survive, a greenhouse allows you to adjust accordingly for your ideal harvest. More warm-season vegetables, fruits, even exotic plants are no longer a dream.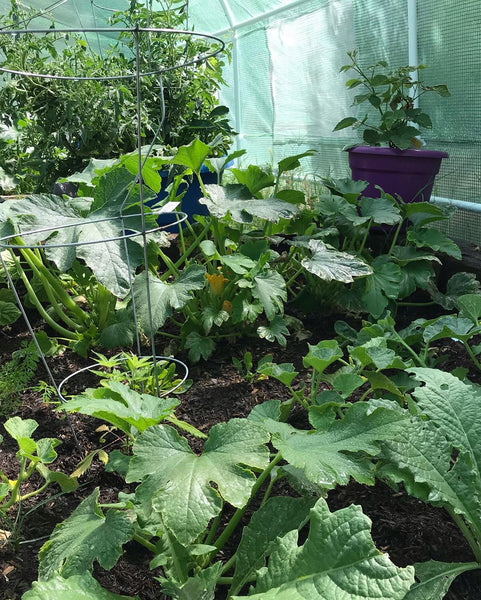 Quictent Greenhouse Lush Corner
Portability & Convenience.

All Quictent greenhouses are designed to be portable. You can decide how and where you want to build. What's more, they are easy-to-assemble, you can finish building up the frame of the largest Quictent greenhouse without help from others. Of course, when it comes to the cover of a large walk-in greenhouse, you'd better have someone for help. A tip: keep the original shipping box so that you can store parts for the next season.
If these benefits are not convincing enough for an order, we suppose the major obstacle is your worry about the complicated, time-consuming assembly process. Let's take Qucitent 20' x 10' x 7' Greenhouse With 8 Side Vents and 2 Doors for an example and dig into assembly steps, you'll see how easy the work can be done.
Prepare the ground.

For mini greenhouses or greenhouses with shelves, the ground does not mean a lot. They take less space. You can either assemble them in dirt or take concrete as a pad. For walk-in greenhouse, some trimming and clearing have to be done before the arrival. You should plan the area carefully, ensuring it is enough for the coming structure. You can also make a walkway down the center with raised beds either side running the length of the greenhouse. Please do not forget to consider watering if applicable.

Sort & Confirm parts.

You may be tempted to skip this step. We NEVER suggest you do that. Although we double check to ensure the package is a right one and well-packed before sending out, however, we do not open the box. That is, even our warehouse staff will not know if there are parts missed. What's more, we can't control everything in the long-distance transit, if any parts are damaged or missed, we will not know until you contact us. Sort and check what you received is so important. Meanwhile, not skip this step also saves your time - there is nothing more frustrating than getting 99% work done only to find you are missing a joint connector. You can also refer to Quictent Greenhouse Instructions if you do not find the instruction on the shipping box.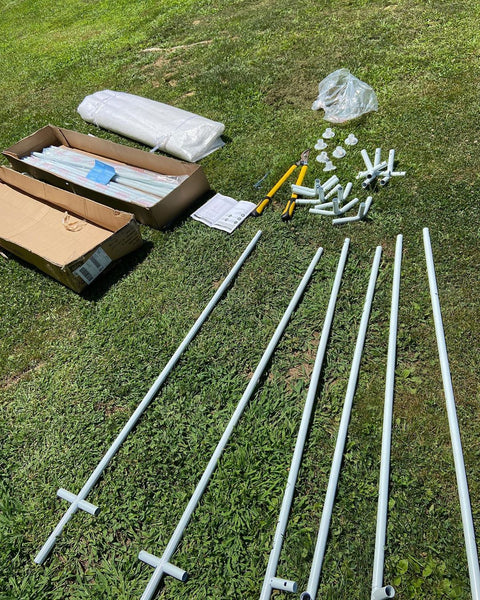 Shipping box & parts for Quictent 20' x 10' x 7' greenhouse
Assemble the frame.

There is no guidance as to where one should begin. It depends on yourself. For most customers, they prefer to add those curved poles on the top after completing the two sides. All parts are marked, it won't be difficult to connect them according to the part list. Pay attention to some similar connectors so as not to place them wrongly.

Place the cover.

As for this greenhouse, it would be hard for one person to finish. Feedback from our customer telling us that she has her sister and dad to help with. A suggestion to spread the cover over the frame is to unzip the door section because it gives more room.