A patio umbrella makes your day. You can kick off a day with a cup of coffee under it. At noon, it provides extended relief from the sun. After a day of heavy work, you can sit down by the table underneath, indulging yourself in books, music, or films. When you have guests, it turns into a great shelter for talking and eating. It is not only outdoor furniture but a great addition to a lively and beautiful garden. That's the reason why we at Quictent bring in a patio umbrella this summer.
Here we'd like to introduce this summer's new arrival in detail.
Table of Contents
Product Introduction
1.1 240g Yarn-Dyed Canopy
1.2 Aluminum Iron Alloy Pole & Ribs
1.3 Easy-to-Use Crank Mechanism
1.4 Product Catalog
Advice on Protecting Quictent Patio Umbrellas From Blowing Away
2.1 Use a Heavy Duty Base (Extra Weights)
2.2 Keep the Unused Umbrella Closed
2.3 Make An Air Vent
Product Introduction
A patio umbrella usually consists of a canopy, the main pole, supported ribs, and other necessary accessories attached to the structure. When shopping for a patio umbrella, you should consider the size and fabric of the canopy, the material of the pole and ribs, the crank mechanism type, and of course, where you want to place it and how it can be fixed to the ground.
Quictent provides medium-sized umbrellas in 9 ft. at present. Applying 240g yarn-dyed fabric, the canopies are more durable and fade-resistant. Most brands apply for 180g PE fabric with normal craftsmanship, that's the reason why they usually receive color-fading claims in 1-3 months. The case will never go with a Quictent one – it is tested to maintain vivid and colored up to 3 years. We're confident about the craftsmanship and promise a 3-year warranty for fading issues.
Here comes a pro-tip when you decide the canopy size: the umbrella should extend over the dining table by at least two feet on each side for optimal shade from sun rays. Another point is that the size of a patio umbrella is decided by the canopy diameter.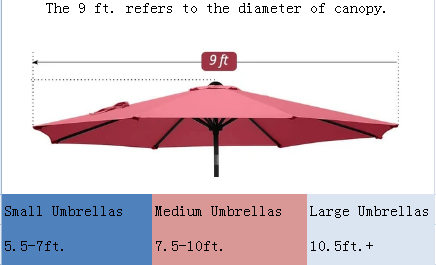 Quictent Patio Umbrella Size Instruction
Aluminum Iron Alloy Pole & Ribs
The structure of a Quictent patio umbrella is made of a 1.5" diameter powder-coated pole and supported by 8 heavy-duty ribs-they are aluminum iron alloy tubes, making Quictent patio umbrellas stand up to heavy winds. It's a great choice for rooftop decks and beachside locales. If a heavy base added, we dare to say it won't tip over easily.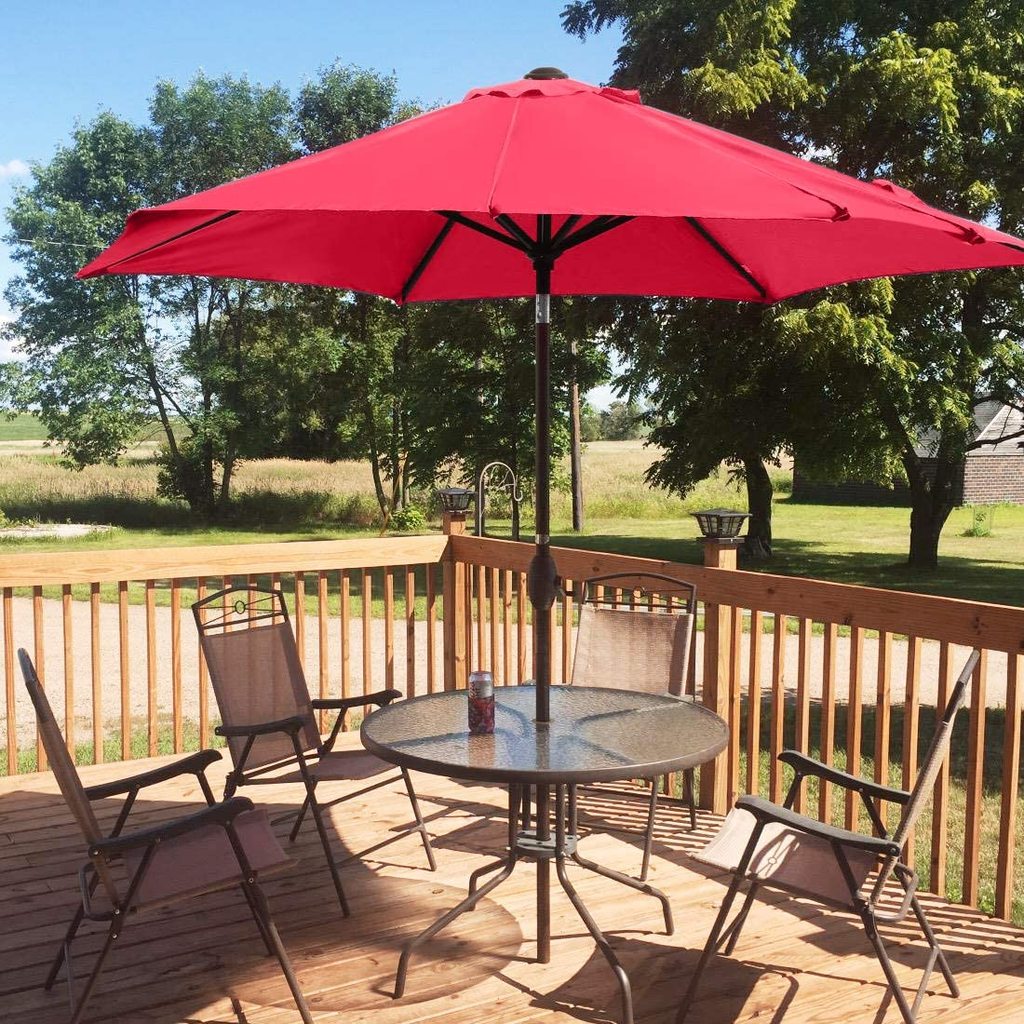 Quictent 9 ft. Patio Umbrella-Red
Easy-to-Use Crank Mechanism
The hand crank system makes it simple to open and close. There is also a big round button that lets you easily tilt the umbrella, allowing you to enjoy more shades.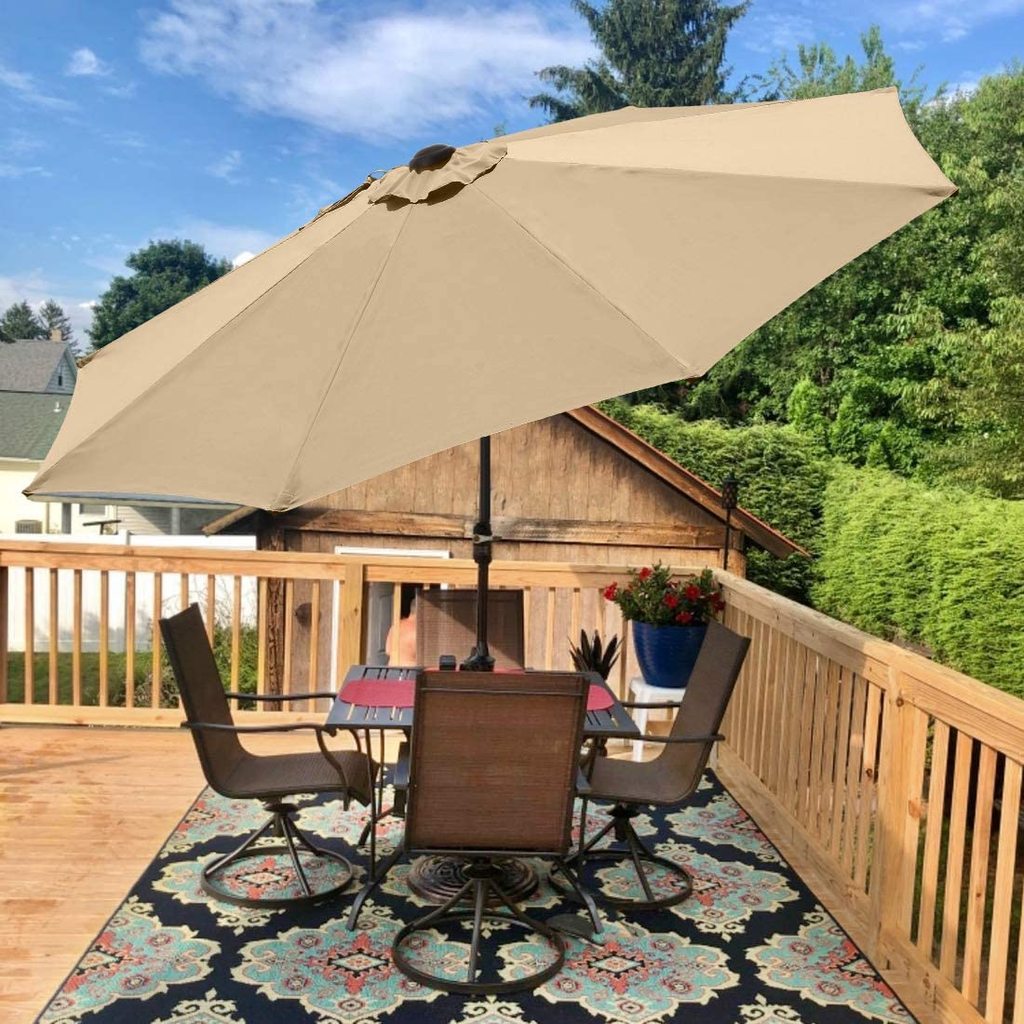 Quictent 9 ft. Tilted Patio Umbrella-Tan
Since you've already had a good knowledge of Quictent patio umbrellas, we can come to specific products. There are two categories: solar lighted umbrellas and regular umbrellas (also called market umbrellas). You can choose from the one with(out) umbrella cover as per your request.
9 ' Solar lighted umbrellas
Quictent Turquoise Patio Umbrella With 32 Solar LED Lights-Cover Included
Quictent Wine Patio Umbrella With 32 Solar LED Lights-Cover Included
Quictent Tan Patio Umbrella With 32 Solar LED Lights-No Cover
9' Regular umbrellas
Quictent Red Patio Umbrella Without Stand-No Cover
Quictent Wine Red Patio Umbrella Without Stand- Cover Included
Advice on Protecting Quictent Patio Umbrellas From Blowing Away
Besides knowledge of Quictent patio umbrellas, we also want to give a constructive answer to a burning question: how can you protect Quictent patio umbrellas from blowing away?
The very core idea is to add more weights to fix the umbrella to the ground. Umbrella bases and covers are designed to keep your patio umbrella anchored, they work well especially during strong winds and rainy weather.
As a base is not included for a Quictent patio umbrella, you'd better find one by yourself. Here comes a rule of thumb: a freestanding umbrella should weigh at least 10 times as the measurement number. That is, for our 9 ft. patio umbrellas, you'll need an outdoor umbrella stand that weighs at least 90 pounds. Another simple method is to go for a cantilever umbrella base, which is designed to be much heavier than a regular one.
You can beef up the base with sandbags, supplemental weight bags, lead bags, etc. You can also insert the main pole into a bucket of gravel, which not only adds weight but also create an excellent look.
Keep the Unused Umbrella Closed
We know the umbrella is beautiful and you want to see it every day. However, we'd recommend you keep it closed (with the cover) when you're not using them. We also suggest you do not challenge rainy and windy weather. Be proactive! Whenever the hint of wind appears, you should always close the umbrella. Don't let it alone, or you probably end up buying a new umbrella.
An air vent is helpful to let air and heat through so that the umbrella can hold well and keep cool underneath. We do not make a build-in air vent for the first generation, so you can go to the nearest tailor shop to create one.
We hope this passage does a great help for you to pick up and keep your patio umbrella. If you have any questions or suggestions, feel free to contact us.
Similar articles you will be interested in
You Are Missing Out, These Tips Will Help You Find The Ideal Vendor Tent