How time flies! It feels like we still at the beginning of 2020. We'd be shocked when having a glimpse of the calendar: it's unbelievable that we're one-third of the way through 2020 fall (which began on September 22). Fall is always the harvest season of a year. Our team will take you for a ride in something encouraging – a collection of harvest from thousands of Quictent greenhouse fanciers.  
Are you ready? Let's begin the journey.
Since it's the season for pumpkins, you're lucky enough to be here for a giant pumpkin. I'm sure you can't believe there is such a giant pumpkin before seeing this. Now you got it! Amazing, right?
The customer shared this snapshot on Instagram, telling how he found fun in growing peppers during the pandemic. If you still do not find a good way to kill time for the rest of this year indoors, it's not bad to try the home gardening. Beautiful flowers, fresh vegetables would be a great comfort and the source of power when they are blossoming, or mature.
Peppers are so popular. Another customer shared a picture of their young growing peppers before the harvest season. Hope you can get inspired by his way of plant division. As you can see, the plants on the right are blossoming while the peppers are growing, which means, the harvest would begin early and last for more days.
Greenhouses are also ideal for ferns. With a bit of effort, many ferns can survive and even thrive in a greenhouse, leaving lush green fronds throughout the year. A tip, using a hanging basket or a pot as the growing container.
Have a look at the Quictent mini greenhouse (transparent) from the front. Aside from the transparent cover that makes it easy to see through to know how plants grow, let in more sun lights, you can also easily remove weeds from the two big zipped windows. Another surprise, we offer a PVC green cover as well. If the size perfectly fits, we highly recommend you pay an extra $10 to get two covers with one structure. Check details by clicking on the following:
Quictent 71" x 36" x 36" Mini Greenhouse-Transparent $39.99
Quictent 71" x 36" x 36" Mini Greenhouse-Green $39.99
Quictent 71" x 36" x 36" Mini Greenhouse with 2 Covers – Transparent and Green $49.99
Now that we talked about the Quictent mini greenhouse with transparent cover, have a look at the green one. Here we rounded up some mini-greenhouse-friendly flowers for home garden fanciers: African violets, peace lily, kalanchoe, begonia, marigold, sunflowers, nigella, daisies, morning-glories and the like.
As a beginner, you may wonder why a mini greenhouse is needed for home gardening as most plants are grown in a pot. A good question. Why? Because the mini greenhouse provides make you the master to the heat, light, humid, ventilation, and temperature inside, which will flourish blossoms (or harvest).
Growing vegetables seems to be the most popular choice: lettuce, green onions, tomatoes. We always receive feedback from customers about their good harvest. The structure of the following pictures is Quictent 95" x 36" x 36" Mini Greenhouse.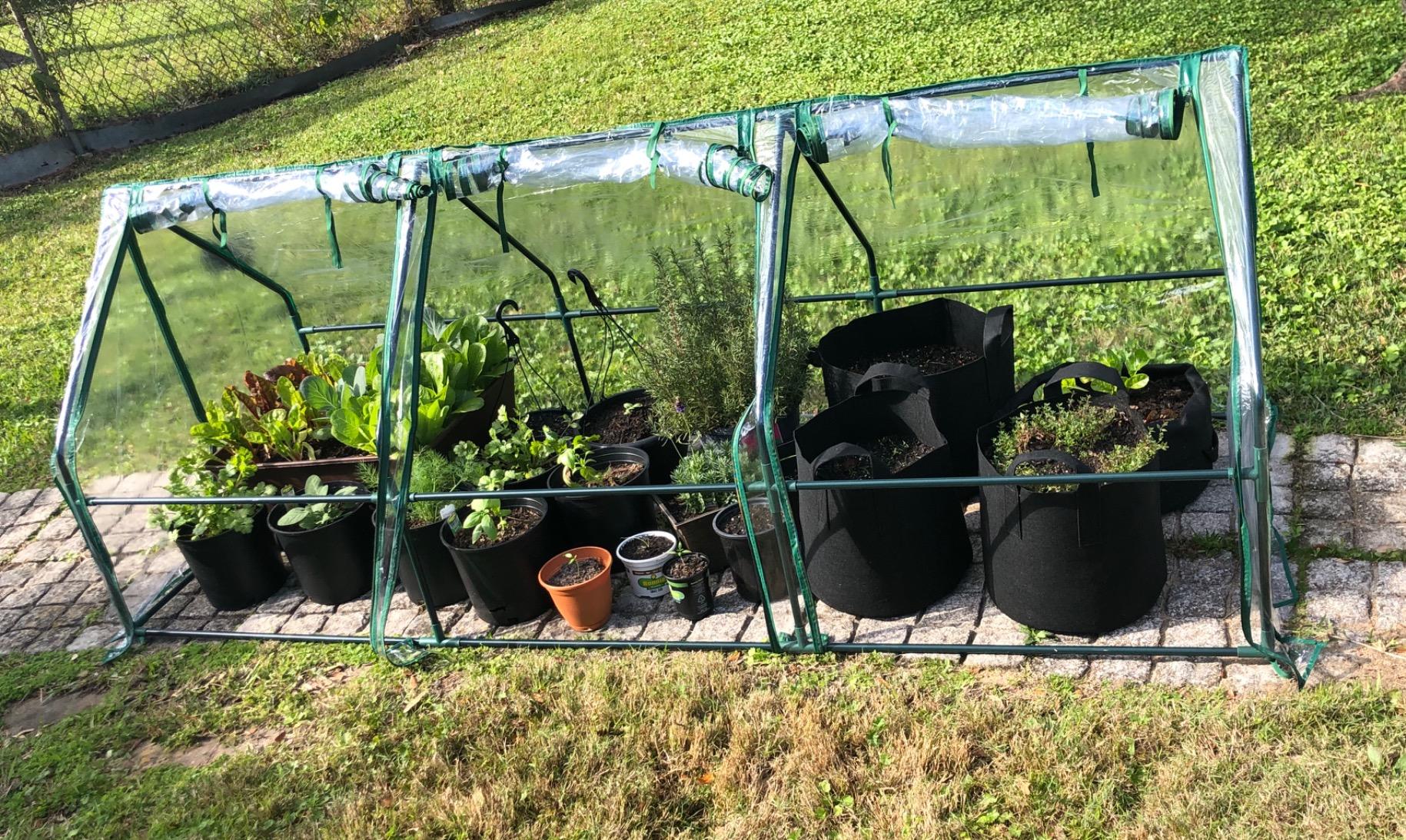 Take several minutes to see how plants grow happily and healthily.
2020 is suffering for all. First, the pandemic which divided us, economically devastated us and killed nearly 21,000 of us, then the extreme weather and social unrest. The fall comforts us a lot with beautiful scene and harvest, giving hope of a normal, better life is on the way. Do you have any heart-warming snapshots (videos) for HARVEST? Do not hesitate to share them with the public and make the coming winter warmer.
As always, be well and thrive.
You may also like
Home Helper - Four Reasons Why You Must Buy A Grow Tent