Quictent 8x8/10x10/10x20 Portable Pop Up Canopy with Sidewalls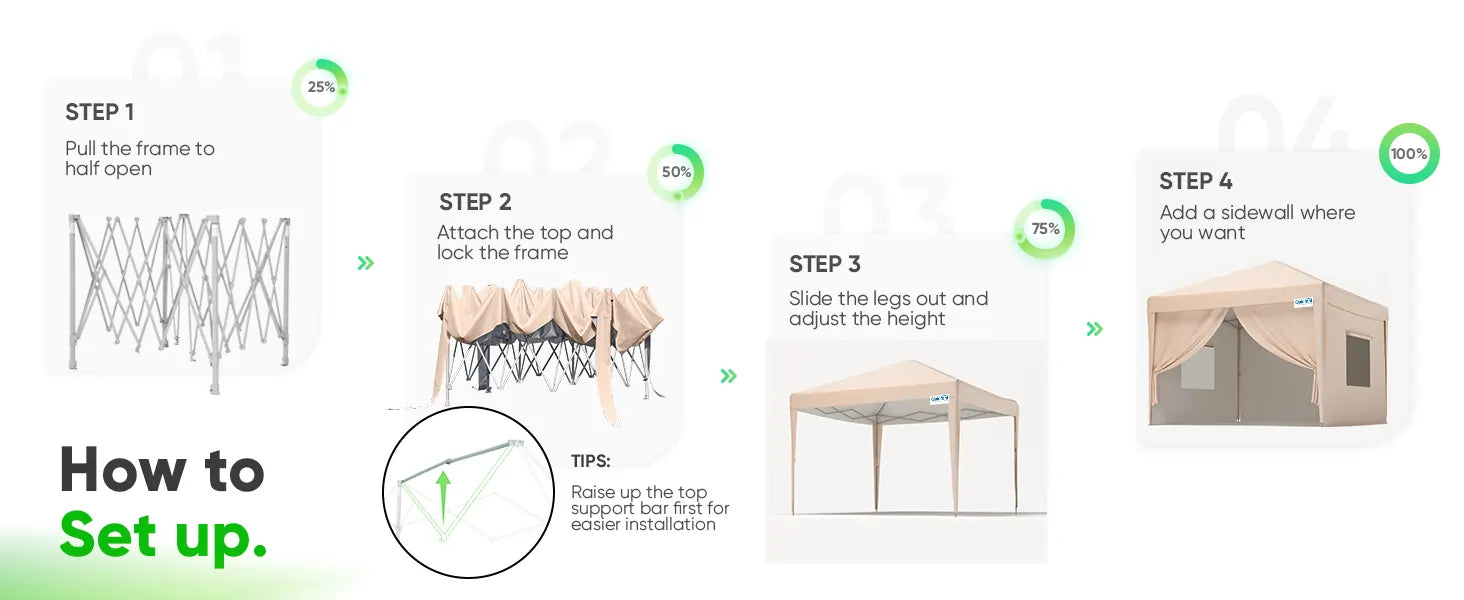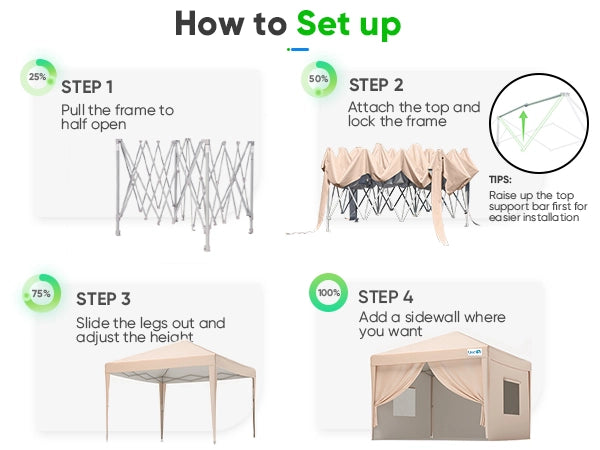 Easy Assembly
The frame of this 8x8/10x10/10x20 canopy comes half assembled. That is, the assembly is half done after you unfold the frame! From joints to push buttons, we also apply premium materials and make every detail easy to operate.
Plenty of Airflows
It's not surprising that almost everyone loves the mesh windows of this 8x8/10x10/10x20 tent with sides. It works great in delivering plenty of airflows and can also keep "unwanted friends" away. You're protected!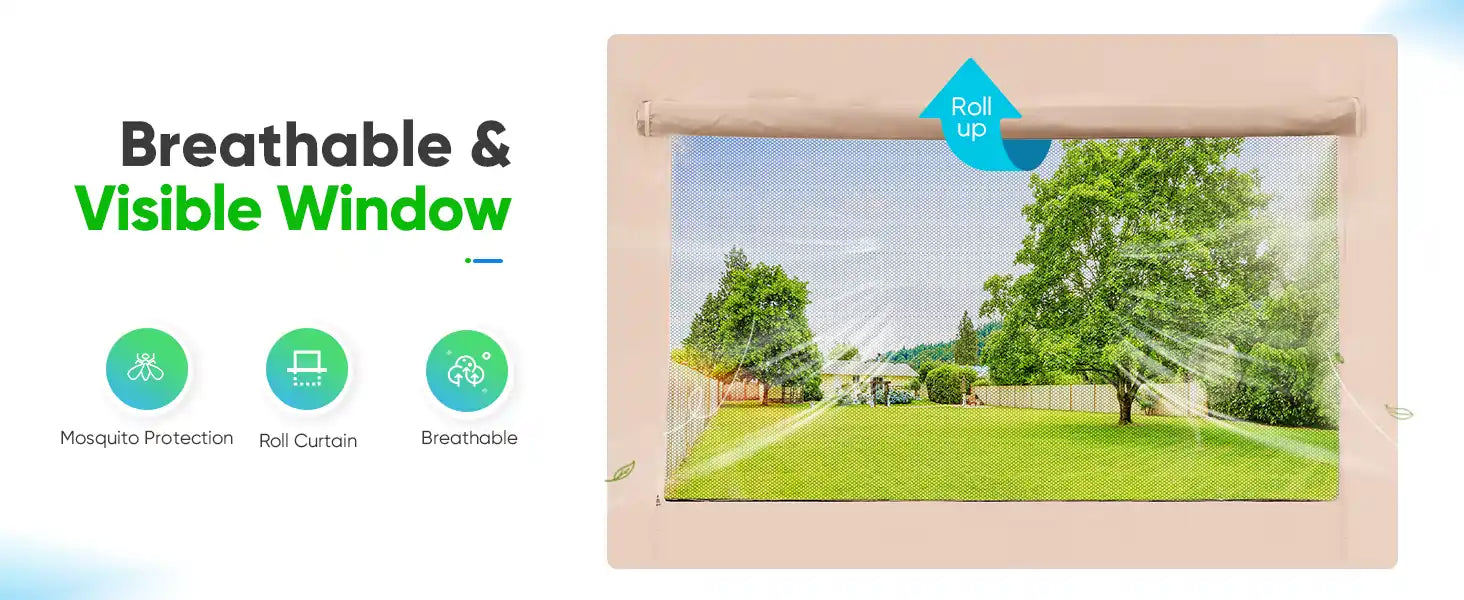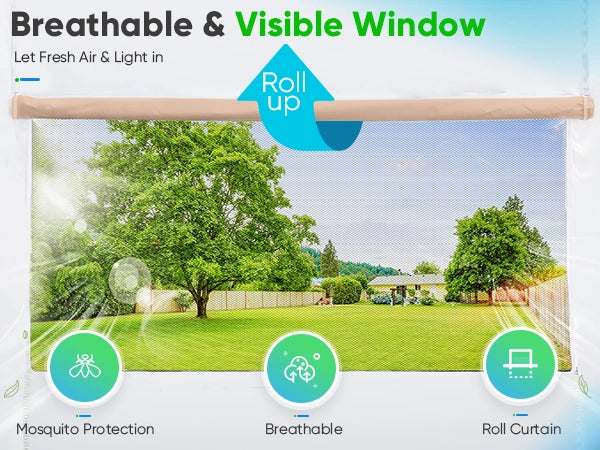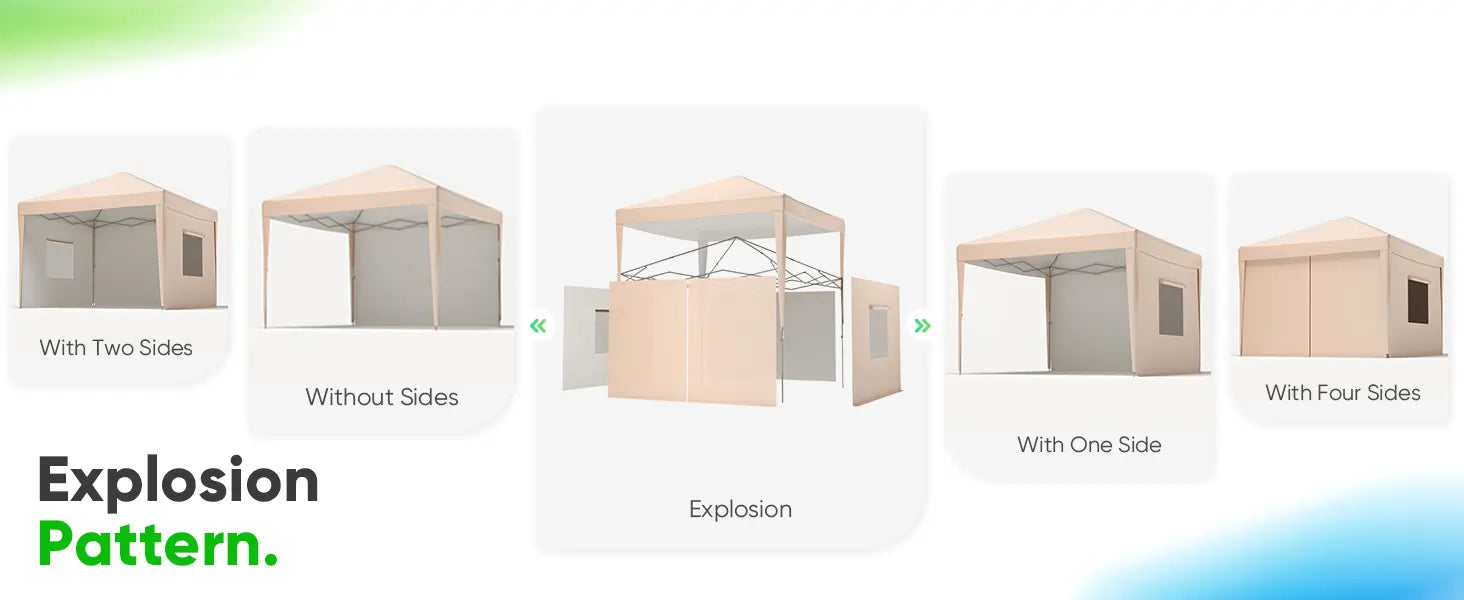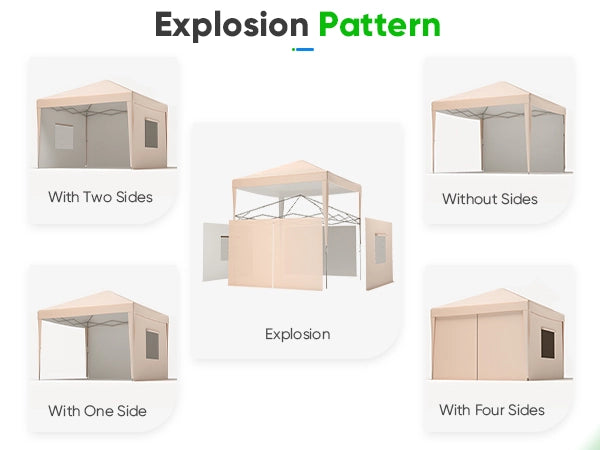 Multi-Occasion
The sides are essential for protection from the elements. Of course, sometimes it would be better to take them off. For multiple occasions, you need some detachable sidewalls. Luckily, you have this 8x8/10x10/10x20 tent with sides – you can have 7 options for using it!
Waterproof & Anti-UV
As the materials – 420D coated Oxford fabric – overperform other tents in the market, the excellent performance of this 8x8/10x10/10x20 canopy in waterproofness and UV resistance would go beyond your expectation. It can block out 99% of UV rays (UPF 50+).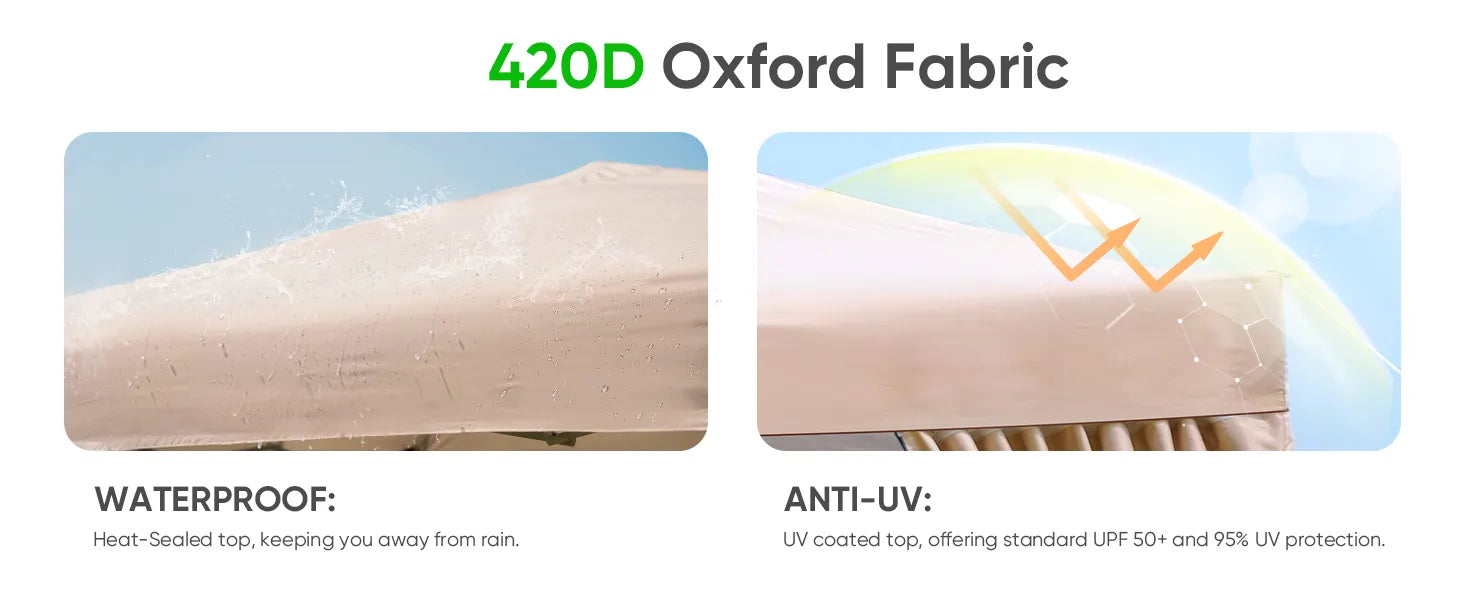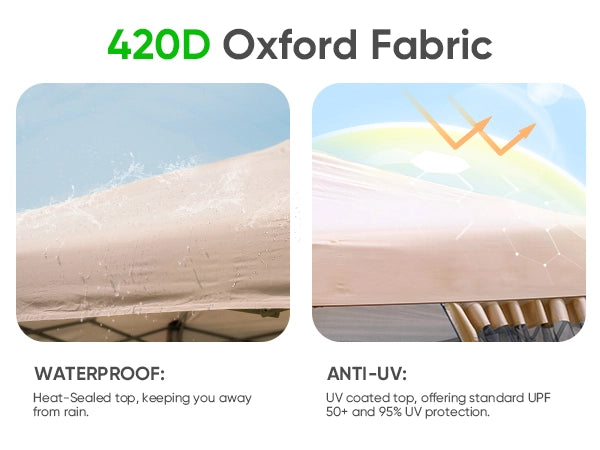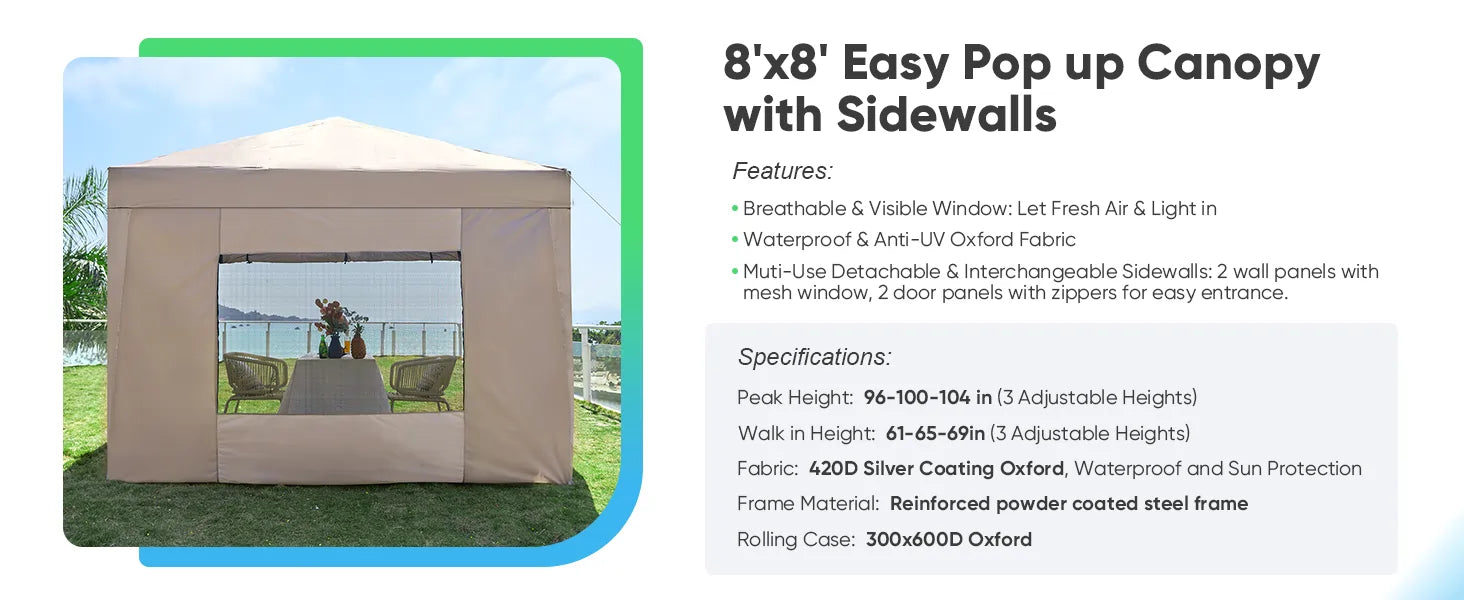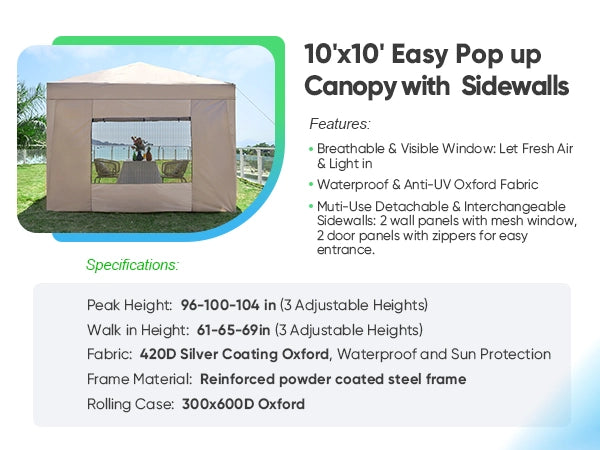 3 Height Options
There are 3 built-in height options for this 8x8/10x10/10x20 canopy. As shown, you can level the whole tent up for each adjustment. It's especially convenient when you need more inner space to place items.
Easy Transportation
It's normal that you need to take a canopy here and there. So we try our best to make it convenient for easy transportation. All parts can be easily put back into the wheeled carry bag! Start your journey with this 8x8/10x10/10x20 canopy at hand!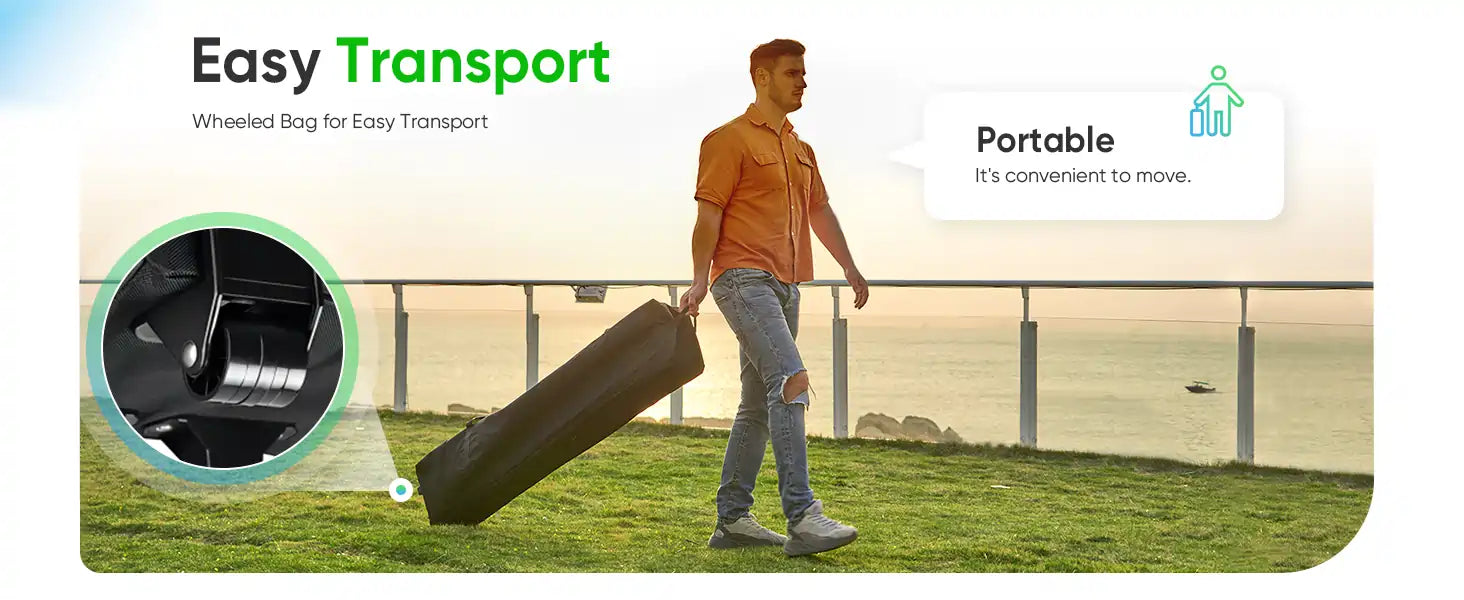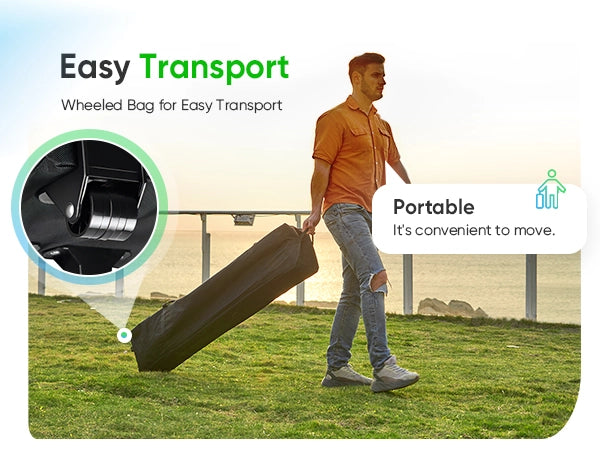 Warranty
Quictent's canopy warranty is: 6 Months Free Warranty for Roof, Sidewalls, Frame, and Poles. Lifetime Free Replacement for Ropes and Stakes and few Natural-loss Parts. Lifetime 50% OFF for Parts Supply exceeding normal 6 months warranty.
Please contact us with your original order number, needed part number and pieces for each part. A customer support expert will get back and follow up on your request in hours.
Shipping
You can expect to receive the item in 2-5 business days after the order(s) being placed.
Your order will be shipped out by FedEx or UPS in 24 working hours, FREE of charge to 48 U.S. States.
Product
If you live in a place with mild weather, then with reinforcement you can leave it outside for at least a year. Once there is bad weather, please disassemble the pop-up canopy immediately and put it back inside for storage.
-Use ropes and stakes. The first method is to insert stakes or anchors into the holes at the bottom of the frame to reinforce the pop-up canopy. The second way is to insert the stake into the ground at a certain position from the frame, parallel to the position of the four legs. After that, attach ropes to the stakes and the frame to form a 45-degree angle of inclination.
-Use heavy objects. You can tie sandbags and other items with a certain weight to the legs of the frame, which can increase the stability of the tent.