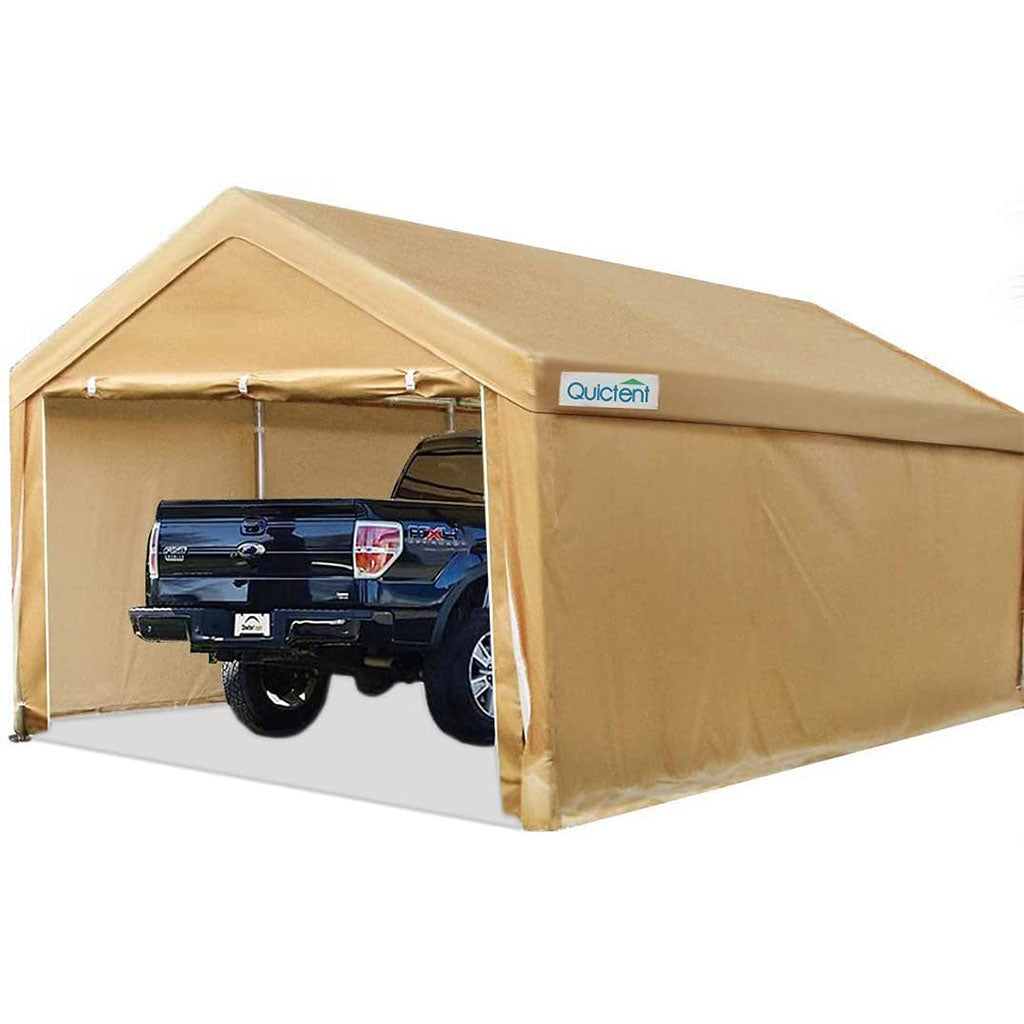 20' x 10' Upgraded Car Shelter
Description
About 20' x 10' Heavy Duty Car Shelter
A sturdy portable garage should be armed from top to bottom. By adding top steel cables and bottom rail supports, this 10x20 car canopy from Quictent will go far beyond your expectations! The detachable sides of this car canopy are a source of versatility—with them, you can create a perfect quictent 10x20 car shelter for your cars, boats, equipment, tools, events, and so on!
Specification
| | |
| --- | --- |
| SKU | GM1115 |
| Color | Beige |
| Dimension (L x W x H) | 10'x20'x8.7'(H)/3*6*2.65M(H) |
| Cover & Side Material | 180g Beige PE, UV protected, waterproof |
| Frame | 1.46"(38mm), Heavy-duty Galvanized steel tub |
| Weight | 145 lbs |
Reinforced Steel Cables
The four reinforced steel cables play an essential part in keeping the top structure in shape. We also do not make any compromise on an easy operation—you can get different lengths easily by rotating the built-in appliance!
Extra Bottom Bars
The six extra bottom bars deliver impressive sturdiness. On one hand, they add weights to the structure, making this 10x20 canopy can hold up winds better; on the other hand, they also protect the entire carport frame from deforming, delivering long service life!
Premium Fabric
Everyone knows how important the fabric is for a car shelter—it's the canopy that is directly exposed to all-day sunshine, frequent rain, daily dust, and the like! The premium fabric (180g PE) we used for this car shelter has proved to fulfill this task all year round!
Galvanized Poles
The thickened galvanized steel poles are fantastic! They are strong and treated to be anti-rust. They deliver a robust, sturdy frame that can withstand high winds very well. At Quictent, you are right on target to purchase a sturdy car shelter!
Detachable Sides
The detachable sides (doors & sidewalls included) are a key point to making this 10x20 canopy versatile. It can serve various purposes with the sides on/closed. So far, we've received feedback from customers saying that this car canopy serves well for their cars, boats, events, daily workouts, and even chicken!

Friendly Advice
Please note this product is only for provisional use and should not be left outside overnight in windy or rainy conditions. Pegs and Guy Ropes: carport tent could be pinned down with pegs on grass, ropes will secure the tent down as well, which will both provide extra stability.
If you want to pick up a white carport at Quictent, this 20' x 10' Standard Car Shelter is also of good quality and recommended.
If you need a larger size temporary car shelter, this 20' x 13' Heavy Duty Car Shelter is one of the perfect choices for you.
Warranty
Lifetime Free Replacement for Connectors, Pegs, Ropes, Elastic ropes, etc.
1 Year Free Warranty for Covers and Poles.
Lifetime 50% OFF Parts Supply exceed normal 1-year warranty.
Shipping&Return
Free shipping to 48 states of the US. 

We do NOT deliver to Alaska, Hawaii, Puerto Rico, US Protectorates, and APO/FPO.

The ONLY reason for item return we accept manufacturing defect.
You could return it within 14 days from receipt of the item.
Please check the contents according to
this page
. If there's any part missing,
contact us
immediately to get a replacement.