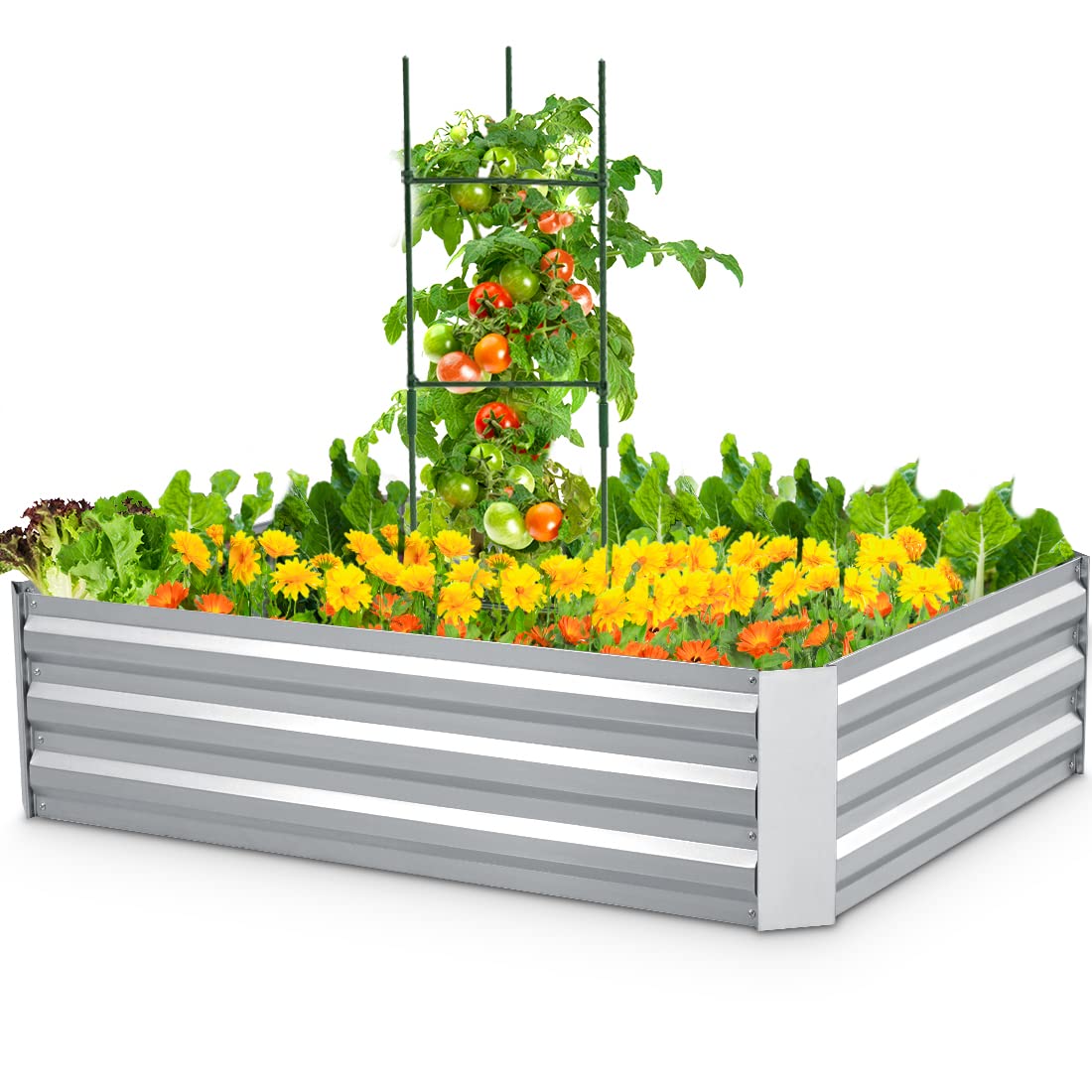 Silver Galvanized Raised Garden Bed
Description
About Silver Galvanized Raised Garden Bed 
This silver galvanized raised garden bed with tomato support cage and weed barrier will give your plants the best growing environment. It is suitable for any size garden and backyard.
Advantages
Tomato Support Cage as a Gift. As the best planting match, we offer the Tomato Support Cage to our users. This helper will support your plant growth and prevent the plant from falling down due to its own or fruit's weight. 
Weed Barrier. A weed barrier for galvanized flower beds will prevent weeds from entering the planting area and damaging the plant growth.
Bottomless design. The open bottom of a metal flower bed facilitates drainage so plant roots don't get sick from too much water.  Also, the plant roots do not touch the metal plate, so they can fully absorb the nutrients in the soil and grow more healthily.
Large and flexible growing space. The metal raised garden bed measures 47" x 35.4" x 12" and can hold about 12 cubic meters of soil, providing large and flexible growing space for your yard, patio, garden, and greenhouse for growing vegetables, herbs, and flowers.
Specification
| | |
| --- | --- |
| Product Dimensions | 35.2"D x 47.2"W x 12"H,  35.4"D x 47.2"W x 22.4"H,  35.4"D x 47.2"W x 22.4"H, 35.4"D x 47.2"W x 22.4"H |
| Material | Alloy Steel |
| Shape | Cylindrical |
| Color | Silver |
Friendly advice
About the similarly shaped raised flowerbed, this Raised Garden Bed is worth trying, it also comes in four sizes.
You can also find flowerbeds with greenhouse cover in Quictent, such as this 71 "x35.4 "x12" Galvanized Raised Garden Bed.
Warranty

Quictent has been doing gardening tool business since the early 21st century. We believe in our product quality and after-sales service. 
We offer 24/7 consultation and a 5-year warranty on the raised garden bed part. You can use it with confidence, if you have any problem in the process of using it, please contact us.
Shipping&Return
Free Shipping to 48 states of the US. Alaska, Hawaii, and other regions of the U.S, please contact us for the shipping rate.

We do NOT deliver to PO box address.

The ONLY reason for item return we accept manufacturing defects.
You could return it within 14 days from receipt of the item.
If there's any part missing, contact us immediately to get a replacement.