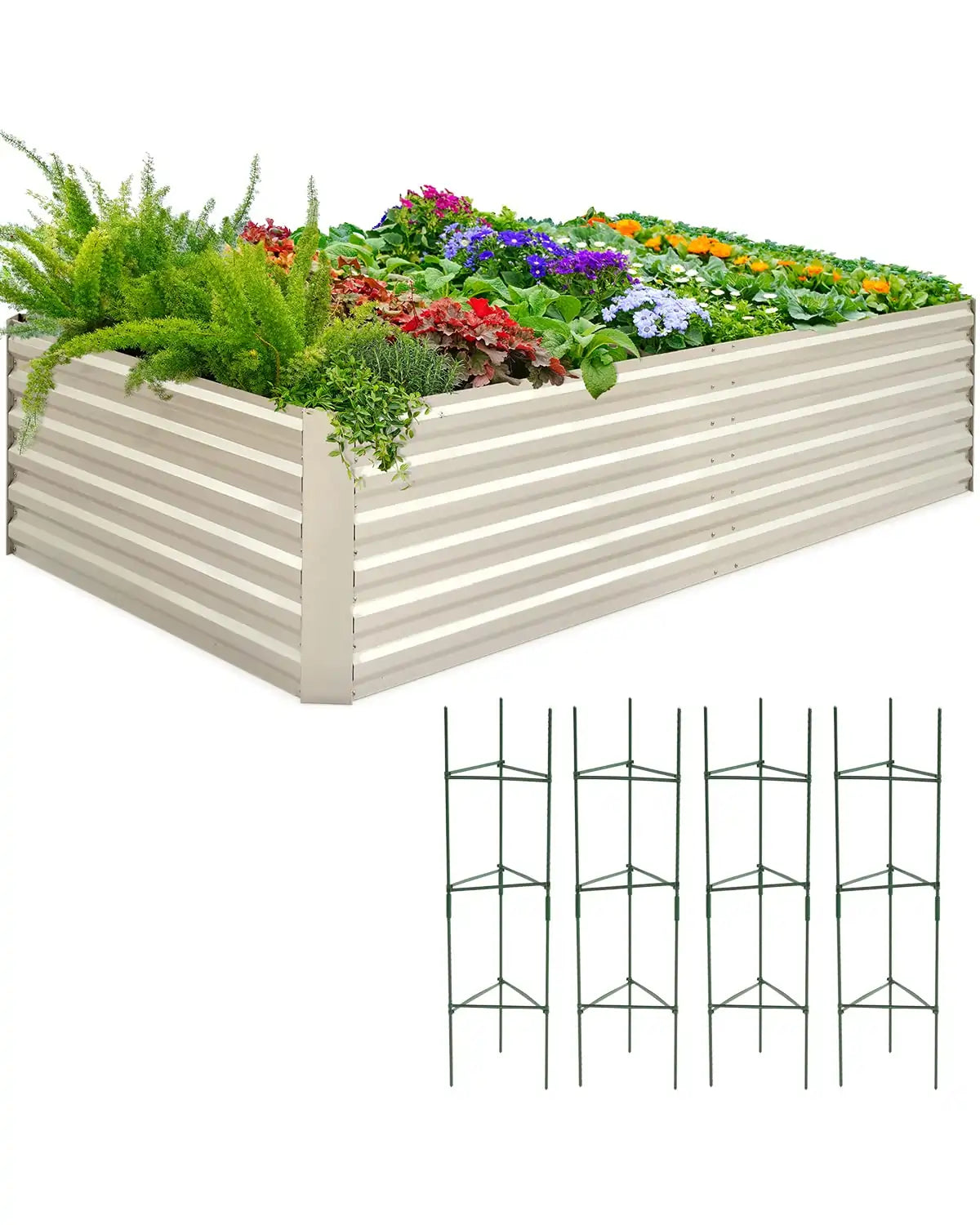 8' x 4' x 2' Galvanized Raised Garden Bed
Description
About The 8' x 4' x 2' Galvanized Raised Garden Bed
 Advantages

Deepened Height. The Metal galvanized raised bed is 22.01" in height, the normal height is only 12". You can add multiple materials at the bottom layer to create nutrient-rich soil. The elevated garden bed could be used to grow many deep roots vegetables or fruits. The tall plant bed can keep small pets out like chickens, puppies, and rabbits.
4 Plant Supports. We provide customers with 4

pcs

plant supporting cages, you can assemble them into any shape. Plant cages can support tomatoes, eggplants, chilis, and so on, preventing plants from falling down because of their own or fruit weight. The product also includes a non-woven liner.

6 Strengthen Stabilizing Bars. The reinforced middle crossbar for an 8 ft long metal galvanized garden bed is cylindrical, and won't bend easily like an aluminum flat bar. Our 6 pcs supporting bars can keep the raised planter box more stable, provide much more capacity of weight, and prevent extra height large steel planter box from cracking after loading soil.
Built To Last. The galvanized raised bed is made of powdered coating galvanized steel panel, which assures the fine condition of a metal

raised planter, it's able to stand harsh weather conditions, won't crack in years, use without worry.

Bottomless Design.

Opening the bottom of the galvanized raised bed is good for drainage, and plant roots won't be sick from excessive water. Also, plants' roots can absorb variant nutrition from the soil, and grow more healthily. You can reach us anytime on business days, with 5 years warranty for raised garden bed parts.









Friendly advice
You can find similar smaller-sized raised flowerbeds at Quictent, 49''x37''x36'' Galvanized Garden Bed with Cover-Green and 8' x 4' x 1' Galvanized Raised Garden Bed.
Specification
Product Dimensions

 

96"D x 48"W x 22.01"H

Galvanized Steel

Color

Green/

Beige/Dark Grey/Silver

Item Volume

58 cft


Warranty

Quictent has been doing gardening tool business since the early 21st century. We believe in our product quality and after-sales service. Please rest assured to buy and contact us at first if any doubt or problems with this garden bed.
Up to 5-year warranty service. We offer a 5-year warranty for the garden bed and a 2-year warranty on the greenhouse. 
You will enjoy a lifetime replacement of the greenhouse's frame connectors.
Shipping&Return
Free Shipping to 48 states of the US. Alaska, Hawaii, and other regions of the U.S, please contact us for the shipping rate.

We do NOT deliver to PO box address.

The ONLY reason for item return we accept manufacturing defects.
You could return it within 14 days from receipt of the item.
If there's any part missing, contact us immediately to get a replacement.